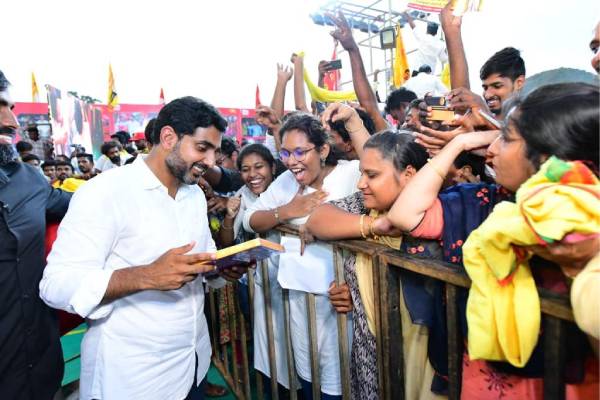 Investments will pour into the State immediately after the TDP is back into power and Information Technology (IT) companies will be set up in Visakhapatnam within 100 days of forming the government, said TDP general secretary, Nara Lokesh, on Wednesday.
Addressing the youth at Yerrabalem near Mangalagiri in Amaravati capital region in 'Hello Lokesh' programme organised during his ongoing Yuva Galam, the TDP general secretary said that he has undertaken the pada yatra only to raise the voice of the youth. "Since I have not committed any mistake till now I am still waging a war by remaining among the people," he remarked.
Making it clear that building Amaravati will be completed within three years of the TDP forming the government, Lokesh said that the entire education system from KG to PG will be totally cleansed. Lokesh made it clear that the fee reimbursement scheme will be reintroduced by the TDP to ensure that the students overcome their financial difficulties and the vice chancellors of all the universities will be appointed beyond any political considerations.
The TDP is committed to the promise made to the youth to allot 40 per cent of the seats to them, Lokesh stated that a job calendar will be released every year as per schedule to fill all the vacancies in various government departments. Reiterating that the sole aim of his party is to build a poverty-free State, Lokesh said that a legislation will be enacted for the safety and security of women. "The provisions will be formed in such a way that anyone should get scared of looking at women," he explained.
Regretting that the State is moving far behind with land mafia in a commanding position and attacks on innocent persons, the TDP general secretary called upon the people to vote for the TDP if they want the State to change for the better. "The State will be back on track only if the TDP supremo, Chandrababu Naidu, is back as chief minister," Lokesh added.