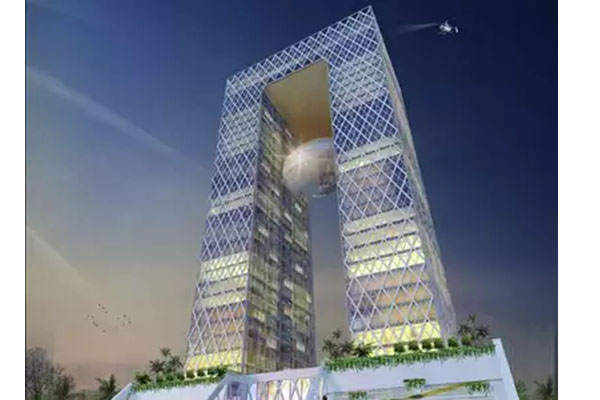 Ever since 'reverse' Jagan became Chief Minister of Andhra Pradesh four months ago, the only news one hears about Andhra Pradesh are about Jagan cancelling, reviewing, scrapping development projects initiated by previous Chief Minister N Chandrababu Naidu to satisfy his 'personal ego' and settle 'personal scores' with Chandrababu at the cost of AP development and people.
Jagan's 'reverse decision' to stop all kinds of activities in AP's new capital city Amaravathi after he became CM, because it was initiated by Chandrababu, has now cast shadow on one of the iconic project in Amaravathi, and for that matter the entire AP.
Non-Resident Telugus (NRTs) of AP origin residing in various countries took the initiative on their own to construct "APNRT Icon Tower" in Amaravthi, by mobisling their own funds, with a hope that this will bring global recognition to new capital city and prompt others to make investments in Amaravathi.
Then CM Chandrababu and Jana Sena chief Pawan Kalyan laid foundation for this project an year ago in November 2018.
Such was the demand for this project that about 104 premium flats were sold out on the date of launch itself even though not a single brick was laid and construction activity started.
Each NRT paid nearly Rs 32 lakh at the rate of Rs 5,500 per sft to the APNRT society, which is the promoter of the project along with AP government.
But after Jagan became CM, this project has landed in trouble as Jagan stopped all activities in Amaravathi giving hints that he plans to shift the capital city from Amaravathi to some other place in AP.
With no construction activity at Icon Tower even after an year, the worried NRTs are now demanding that their advance money should be returned.
The NRTs are worried that if Jagan shifts capital, this project will become a disaster and there is no point in investing their hard-earned money on a loss-making project.
The construction works were supposed to begin from February this year but due to Assembly elections in May, they could not make headway.
With TDP losing power and Jagan becoming CM, this project lost its sheen even before the construction has started.
Poor NRTs are now cursing their fate for investing in this project and for AP people electing Jagan as CM who is taking AP in a 'reverse direction'.