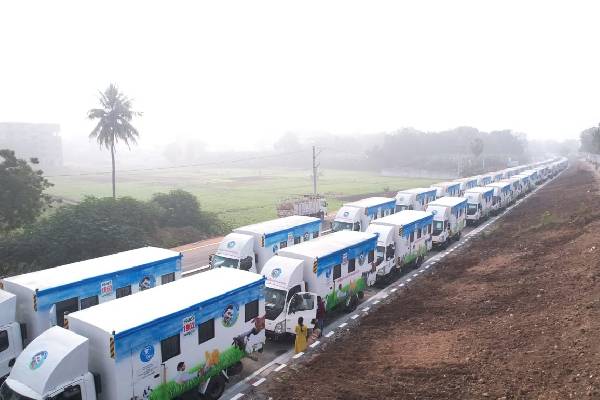 Chief Minister Y S Jagan Mohan Reddy flagged off 165 veterinary ambulances costing Rs.111.62crore under the second phase of Dr YSR Mobile Veterinary Clinic services on Wednesday.
With the today's flagging off, the total number of veterinary ambulances serving the animals has reached 340 across the State. In the first phase, the Government introduced 175 veterinary ambulances at a cost of Rs.129.07crore which benefitted 1, 26, 559 cattle herders by saving the lives of 1, 81, 791 cattle. The total amount spent on the ambulance services has so far reached Rs.240.69crore.
The Chief Minister has garlanded the statue of his father and former Chief Minister Dr YS Rajsekhar Reddy before flagging off the veterinary ambulances that would serve the livestock in distress similar to the 108 ambulances serving humans.
He has also personally inspected the facilities available in an ambulance and talked to the staff.
The veterinary ambulances, serving cattle herders on toll free number 1962, are equipped with a microscope each to conduct 20 types of manure tests, 15 types of blood tests, all types of vaccines and medicines besides a hydraulic facility to load cattle.
Minor surgeries can also be performed on bovine in the ambulances which are staffed by a veterinary doctor, a qualified assistant and driver-cum-attender.
The Government would provide a minimum of two veterinary ambulances to each assembly constituency for extending quality veterinary services to livestock farmers at their doorstep even in the remote areas of the State.