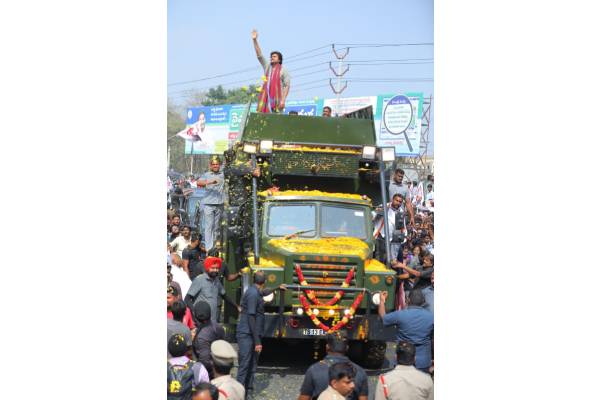 Jana Sena chief Pawan Kalyan got vahana pooja performed for his vehicle – Vaarahi – at the Kanaka Durga temple in Vijayawada on Wednesday. The vahana pooja for the first time was done in Kondagattu of Telangana the other day and the vehicle was brought to Andhra Pradesh today.
Pawan Kalyan joined the special pooja performed by the temple priests atop Indra Keeladri Hill. Hundreds of Jana Sena activists and Pawan Kalyan's followers gathered outside the temple and greeted their leader.
The Jana Sena chief said that he would tour the entire Andhra Pradesh on his Vaarahi and ensure that the demon rule in the state is destroyed, and peoples' rule is restored.
Later at the party office in Mangalagiri, Pawan Kalyan interacted with the party leaders and intellectuals on the SC, ST sub-plan funds utilisation by the state government. He expressed concern over the diversion of funds by the state government. He said that the Jagan Reddy government was destroying the lives of the people cutting across all sections.
He expressed concern over the diversion of the SC, ST sub-plan funds to various schemes. He said that the sub-plan was achieved by these sections through a prolonged agitation and regretted that the present government had no respect for peoples' movements.
He called upon the SCs and STs in the state to join hands with him to throw this corrupt government out of power. He wanted every person in the state to work against the ruling YSR Congress in the next election and see that democracy is restored in the state.