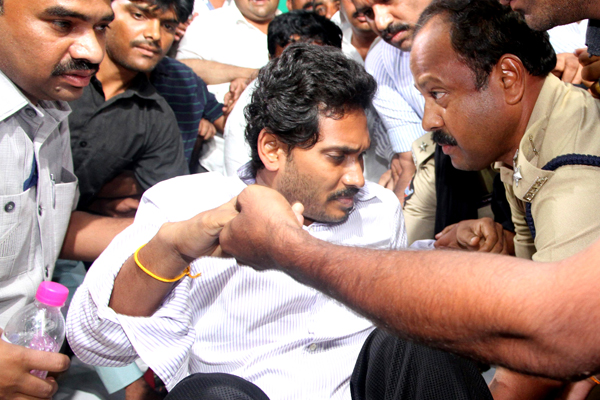 After being shifted to government general hospital, Jagan's fast is foiled and there is no fast going on . This is officially. The doctors said Jagan was taking oral fluids. It has clearly indicated that he had no plan to the continue his fast in Hospital as KCR did when he was shifted to NIMS in December 2009. KCR who was on fast a couple of day ago was shifted to Khammam headquarters hospital. Later he waas shifted to NIMS, Hyderabad, he developed some lung infection. Police foiled his indefinite fast on fifth day, December 4, 2009. After an examination in emergency ward, Rao was shifted to millennium block where he continued his fast at NIIMS which shook the whole of Telangana.
Given the doctors version that Jagan is cooperating to doctors and was also being given oral fluids, it appears Jagan is in no mood to continue his fast from hospital bed. Barring a few dharnas in Kadapa and Anantapur, hell did not break loose on Tuesday morning against the prolice intervention in the Jagan's fast as if everybody knew the outcome on the day-seven. There has bee no statement even from the party on the status of the fast. A statement simply said  police foiled YSR Congress party president Y.S. Jaganmohan Reddy's fast early on Tuesday. " The leader of opposition was on indefinite fast for six days demanding special category status to Andhra Pradesh. As his condition deteriorated, police swooped on the hunger strike camp in Guntur around 4 a.m. He was taken to a government hospital in an ambulance and was admitted to the intensive care unit. Doctors administered him fluids intravenously. Smt YS Vijayamma, Smt Sharmila, Smt YS Bharathi and other family members and senior party leaders rushed to the hospital," was the statement from the party office at 2 pm.
How Police foiled the fast
Guntur Police in wee hours of Tuesday foiled the indefinite fast bein undertaken by the Opposition leader in Andhra Pradesh Assembly YS Jagan Mohan Reddy and shifted him to the trauma care centre at the Government General Hospital. Police took the decision to shift him to the hospital as the fast entered the seventh day accompanied by deteriorating health condition.
A police team led by Additional Superintendent of Police J Bhaskara Rao reached the venue at about 4 a.m. and swiftly moved Jagan from the fasting camp in Nallapadu road, Guntur. Jagan who was deep sleep at the time woke up following the commotion generate by the arrival of the police on the scene. Supporter of Jagan and party workers staying at the camp raised slogans and tried to resist the move.
Jagan has been on an indefinite fast for the last six days demanding special category state status for Andhra Pradesh. Jagan's wife Bharathi, his sister Sharmila and mother Y.S. Vijayamma accompanied Jagan to the hospital.
Later, GGH Superintendent Dr Raju Naidu said that Jagan's health was showing signs of improvement after he was administered fluids. Medical reports on Tuesday suggested that the ketone had reached an abnormal level, which could have led to renal failure. Doctors said he was kept in observaion and needs medical care for 24 hours. " Jagan's body is responding to the treatment. He is also cooperating to the doctors. He is taking fluids orally as. Ketone bodies, Blood Sugars, Uric acid tests have been tested. Except Uric acid is everything is normal.The results have been given to Vijayamma," Dr Raju said.