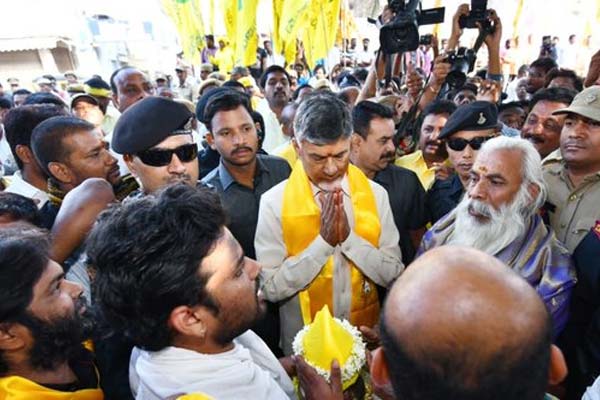 Former Chief Minister N Chandrababu Naidu began his day-long Sand Deeksha at Dharna Chowk in Vijayawada demanding free sand policy in the state. Naidu said that he had seen 11 Chief Ministers in his long political career and Jaganmohan Reddy is the most hopeless CM of them all. In the past five months, 50 construction workers committed suicides. Even politicians are committing suicides because of the YCP harassment. Jagan policy caused great suffering to 35 lakh construction workers and many more depending on 125 associated professions.
Referring to election promises, Naidu said that Jagan Reddy asked for 'One Chance' and the Andhra people surprisingly gave that opportunity to him. But that One Chance of Jagan has now become a Death Sentence for the poor people all over the state. Naidu asked why Jagan is not stopping illegal transportation of Andhra sand to Hyderabad, Chennai, Bangalore and Orissa.
Chandrababu said that Jagan Reddy is crossing all decency as he is threatening to continue sand crisis if the cement industry managements don't pay hefty amounts to YCP. Naidu deplored that Jagan is cruelly manipulating everybody despite its disastrous impact on poor people.