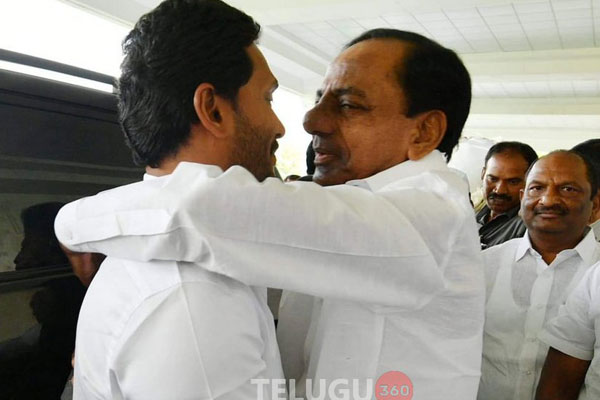 AP CM YS Jaganmohan Reddy and his Telangana counterpart K Chandrasekhar Rao displayed unusual bonhomie by meeting frequently and also having lunch at their respecitve official residences in Pragathi Bhavan and Tadepalli.
It's an open secret that the bonhomie between KCR and Jagan existed even before Jagan became CM.
It was widely debated in political circles that KCR funded Jagan during AP Assembly polls to beat TDP chief N Chandrababu Naidu as Naidu is the common rival of both Jagan and KCR.
After Jagan became CM, the bonding between Jagan and KCR became even stronger.
Jagan invited KCR for his swearing-in as CM and KCR attended it without fail in Vijayawada. Later both the CMs met about half-a-dozen times to discuss on resolution of pending bifurcation related issues between TS and AP.
Jagan even showed his gratitude for KCR by handing over AP Secretariat buildings in Hyderabad to Telangana unconditionally while Chandrababu retained them for five years seeking compensation for AP.
KCR and Jagan met frequently between June and September.
However, Jagan's decision on merging APSRTC with AP government in September led to strained relations between KCR and Jagan.
This fuelled similar demand from TSRTC employees, which KCR rejected outrightly.
The result TSRTC employees went on strike from October 5 and it's still going on even after 41 days today due to which KCR is facing severe criticism from various quarters.
KCR openly expressed his ire at Jagan's merger decision saying it is impractical and impossible.
KCR and Jagan were supposed to meet in October to discuss on water sharing and other bifurcation issues.
However, KCR has called off all these meetings due to RTC strike.
There are no chances of KCR meeting Jagan in the near future.
Seems, their honeymoon has ended within six months.