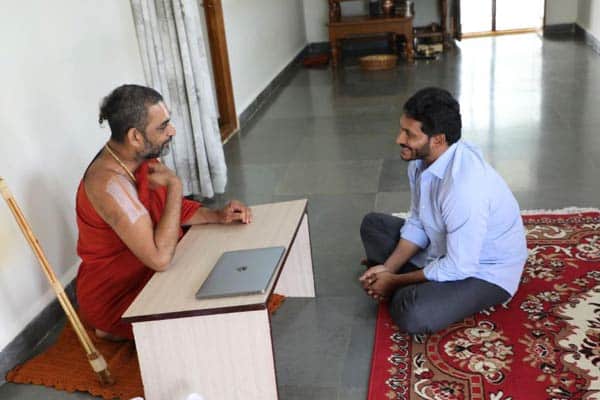 Andhra Pradesh leaders of various parties have several times in the past, tried to make an issue out of Y S Jagan Mohan Reddy's religious faith and the secular nature of YSR Congress party. When Congress tried to attack on Jagan's faith in 2012, it backfired.
However, the YSRCP president meeting Chinna Jeeyar Swami at Hyderabad is being probed in various angles. This is not the first time that Jagan has visited Hindu shrines or Godmen. After 2014 elections, there has been a dramatic change in Jagan and his family's religious believes. Even in his Nandyal campaign, the opposition leader made references to religious epics.
Why is he trying to invoke divine help from of Hindu Gods? Is Jagan trying to shrug off the communal and caste angle? Is it only to gain political mileage for appeasing the majoritarians? Is it because of his latest affinity towards BJP? Is he taking a leaf out of KCR's beliefs which he dons to have helped realize his dreams? Is it something beyond that?
Nonetheless, it is good to keep such visits away from the media gaze, and would be even better if Jagan once for all speaks about his beliefs. When Chandrababu Naidu or any other leader visits shrines of various faith and talks to the godmen, not much is spoken or written about.
However, the reactions to Jagan's inclination towards Hinduism, exposes the pretense among other parties of being secular. Nonetheless, he like any other citizen is shielded by Indian constitution which grants the right to freely profess, practice, and propagate religion subject to public order.