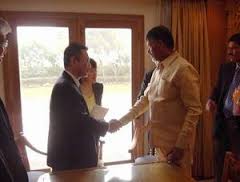 Japan is going to be a major player in the construction of new capital of Andhra Pradesh, Amaravathi. Ministry of Economy, Trade and Industry of Japan (METI), expressed its willingness to partner with the AP government in the construction of 21 century capital. Yosuke Takagi, State Minister of METI, on Wednesday, told Chief Minister Naidu, that Japan wants to involve with the development of capital city from day one. Takagi paid a visit to Naidu in Tokyo to convey Japan's commitment to AP's development.
Elaborating on ministry's experience in development of  ports, airports, roads, housing and other infrastructure projects, the Japanese minister said, "We are gearing up to offer fullest cooperation to Andhra Pradesh in the development of Amarathi. We have begun identifying companies that are suitable to build a world-class capital for AP."
Earlier, AP government entered into a Memorandum of Understanding (MoU) with National Electronics Corporation (NEC) of Japan for 'Safe-city project', to be operated from Tirupati. The MoU was signed in the presence of Chief Minister Naidu and Yosuke Takagi, State Minister of METI.