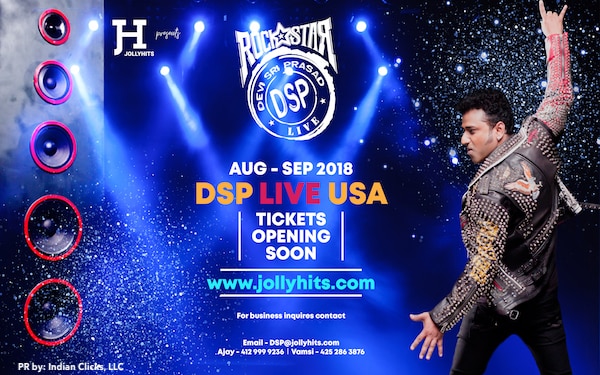 "JOLLYHITS" HOUSE well known for overseas Distribution & Exhibition – started our first Bilingual Movie Production titled "RAJARATHAM" will be releasing on Mar 23rd, 2018 with US Premiers on Mar 22nd, 2018.
Venturing ahead, "JOLLYHITS" HOUSE is currently gearing towards yet another entertainment sector – "LIVE CONCERTS".
As part of this exciting endeavor, we take great pride in announcing our first venture "LIVE CONCERTS WITH INDIAN ROCKSTAR DSP", the man who stole millions of hearts with his thumping music, the one who sets the stage on fire with his ELECTRIFYING ENERGY!
DSP, with his huge team, including Singers, Musicians, Choreographers, Hollywood Dancers, Stylists and Technicians are all on the way to mesmerize you and set new standards of entertainment across the United States, coming August and September.
"DSP Live in USA 2018" promises to be a one of a kind experience, that promises to enthrall you like you have never experienced before. This will be a proud moment and a great celebration for every music lover living across America.
Every concert will be different from the other, with a unique setup, theme, and dances, tailored for the audience with a variety of songs.
JOLLYHITS team is proud to be associated with DSP and his TEAM to rock this year with Outstanding Musical Concerts across USA.
So… Get Ready folks… to Sing:
"Sa Re ga ma padanisa – Arey KARO KARO zara JALSA"…
And Shake your leg for
"AMMADU… Let's Do KUMMUDU"
And to get drenched in soulful melodies like "YENTHA SAKKAGUNNAVE"
See you soon (Aug – Sep 2018)
Tickets will be sold on our website soon "WWW.JOLLYHITS.COM"
For business inquiries and to be part of this mega concert, contact:
Email: DSP@jollyhits.com
Phone: Vamsi @ 425 286 3876
Ajay Reddy @ 412 999 9236
Press release by: Indian Clicks, LLC