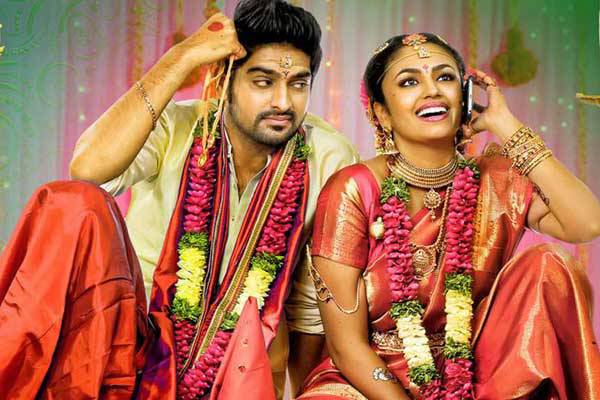 10:20 AM: With its own limitations, Kalyana Vaibhogame is a commendable movie.
10:10 AM: Climax is just ok . Overall Good Effort By The team. Movie should work with urbane audience !
10: 00 AM : Nandini Reddy excelled in generating emotions !
9:40 AM: Naga Sourya excelled in the role. Raasi re-Entry performance is top class. She is gonna get lot of "Family oriented " roles for sure.
9:15 AM Live-In Relation with new dimension , story is natural and fun.
8:45 AM Yet another conditional marriage story , but without any indeceny !
8:30 AM: Interval . Good story line, Characterization and Family values preaching. Decent Effort so far
8:25 AM Narration is slow but urbane setup and presentation of current generation youth is good.
8:20 AM Divya ( Malavika ) is a Medico , Raasi ( yesteryear's heroine) is her mom. Sourya and Divya parents arrange pelli choopulu !
8:00 AM Aishwarya's dubbing or own voice is very odd and irritating.
7:50 AM Sourya ( Naga Sourya ) been introduced as Video Game designer , his mom is Aiswarya ( yester year's heroine ) !
7:35 AM: Titles with each technician's childhood pictures!
7:30 AM: Live updates will start
——————————
Kalyana Vaibhogame Starring Naga Shourya and Malavika Nair releases this Friday March 4. Nandini Reddy who made her mark in Telugu Industry with her debut film , Ala Modalaindi , has directed Kalyana Vaibhogame. While Nandini Reddy's first film Ala Modalaindi was a realistic one and Boxoffice hit, second one Jabardast which was loud, over-the-top comedy flopped at Boxoffice. In her exclusive interview with Telugu360.com, Nandini assures that the tone, texture and realistic feel of the film Kalyana Vaibhogame will be closer to Ala Modalaindi with a completely different story. Coincidentally Oct 4th is Nandini Reddy's Birthday and We need to wait and watch if she has self gifted a Birthday blockbuster or not.