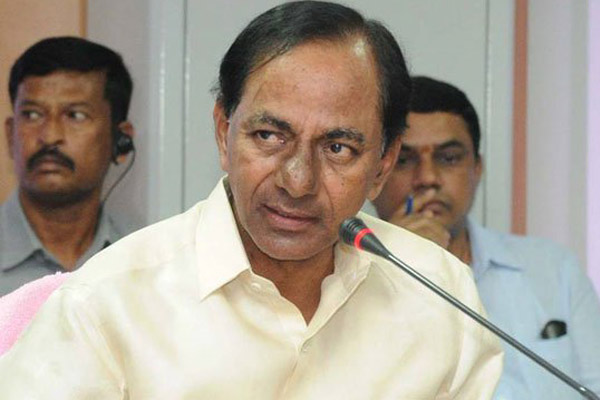 Breaking his silence on Opposition criticism over his offering of gold ornaments to Lord Venkateswara of Tirumala as part of the fulfilment of a vow he had made during the fight for separate Telangana, Chief Minister K Chandrasekhar Rao has made a blistering attack on the Congress leadership in the State for its deliberate moves to scuttle the progress on the key projects taken up by the government.
A few hours after Congress' announcement that it would move the High Court against the chief minister fulfilling his religious vows with public money, Rao has unleashed a verbal onslaught on the Congress and other opposition parties, who disapproved of his gesture.
Coming down heavily on the Congress, he said that the party was deliberate in choosing the development projects taken up by the government as targets. He deplored that the party was making every effort to hinder the progress on key irrigation projects. He alleged that the Opposition leaders are attempting to obstruct the construction of the projects by moving the courts and the Green Tribunal.
Stating that the Congress leaders had acted like slaves of the Andhra Chief Ministers in the undivided State, he alleged that some of them had turned into 'gang of thieves' with the sole agenda of stalling projects. They do not have any culture and all that they can boast of is their 'liquor culture'.
He warned that such people should think twice before trying to politicise even his religious vows. With the long-cherished desire of the Telangana people becoming a reality, he was now keeping his religious vows, Rao said, adding that it was being done in the best interests of the people of the region.
He wondered that "even the outdated Communist parties are objecting to my thanksgiving to Gods. In fact, when I performed a Yagam here with my personal money, a veteran leader like CPI general secretary Suravaram Sudhakar Reddy criticised even that," he added.
Telugu360 is always open for the best and bright journalists. If you are interested in full-time or freelance, email us at
Krishna@telugu360.com