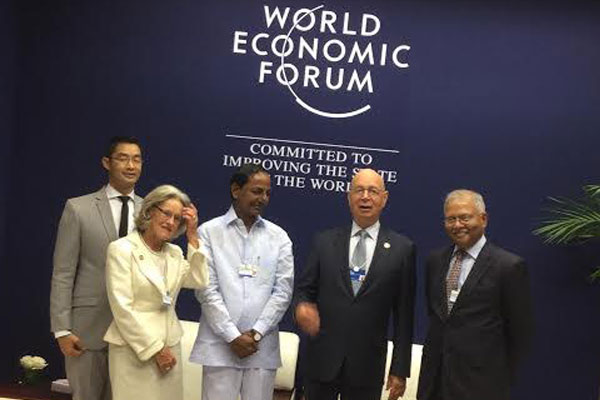 Telangana Chief minister K Chandrasekhar Rao on Wednesday said India was moving on the path of inclusive growth. Inviting the world and China investors to the land of Telangana he said," we (India) are not at crossroads, may be other countries are. We are marching forward with inclusive growth where elimination of poverty is the main issue,"he told a panel discussion on "Emerging Economies at Cross Roads" organized as part of "Annual meeting of new champions 2015, Dalian, China".
Talking about how his government was tackling the poverty , the CM said about his ambitious program of two-bed room house for every homeless in the state. "You need structural adjustment when you want to tackle the poverty and make growth inclusive. In India we have embarked on economic reforms to achieve this," he said. Stating that a huge land bank is created in Telangana, Rao called upon the world leaders to come to India and invest in the country as well as Telangana.
He briefed the world economic leaders about the industrial policy formulated by the Telangana state. Lauding this as the best policy in India, Rao, told the panel discussion that the policy ensures that industrial permits are given in two week. Under the new regime, he said, 56 companies had been cleared in two weeks time with an estimated investment about US $ 2 billion.
Talking about India, he said "Team-India" is working well under the leadership of Prime Minister and many chief ministers as members. KCR expressed hope that China would come out of the present hiccups and it had the capacity to bounce back. Rao is on ten-day tour in China to interact with Chinese investors about the investment environment of Telangana state. On the first day yesterday Leo Wang, Chairman of Leo group of companies met the Chief Minister and expressed his company's willingness to enter Telangana. Wang said his groups was specialized in manufacturing heavy duty pumps. Government sources indicated that investment to the tune of Rs.1,000 crores was expected from Leo group.
Also, chief Executive Officers of top 30 companies located in Liaoning State had a meeting with the CM and his delegation and exchanged views possible areas of investments in China.