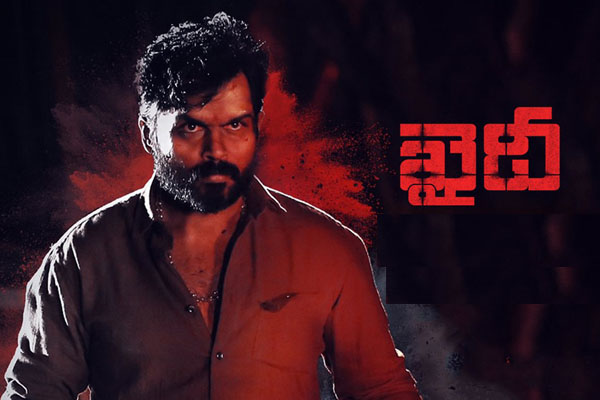 Khaidi Movie Review
Khaidi Movie Review
Telugu360 Rating : 3/5
Tamil star Karthi has been experimenting with stories. After 'Khaki', he is attempting serious themes. His latest 'Khaidi' has been promoted as a film with intense story and narration. The film has no heroines, no songs. A daring attempt from Karthi for sure. Directed by Lokesh Kanagaraju, it has created a good impression with its promotions and trailers.
Story :
'Khaidi' has a unique story and the basic story takes place in five or six hours in one night. A police officer Vijay (Naren) realizes that a drug cartel gang mixed sedatives in the drinks while the large group of police officers was having a party. The gang's target is to release the confiscated cocaine from SP's office. Their boss is also in the custody of the police. Vijay requests Delhi (Karthi), a prisoner on parole who is on his way to meet his daughter, to drive a lorry and safely take the officers to a hospital. Can Delhi save the day?
Analysis :
From the very first scene, 'Khaidi' makes its intentions clear- this is a no-nonsense action thriller. It gets to the point straightly. In the first 15 minutes, the main point has been established.
Karthi enters the scene a bit late into the movie but once he does, he takes the charge with his terrific performance. Till the interval, the director puts the audience on the edge of the seat with his gripping narration. There is not a single dull moment before the interval.
Everything is neatly established, multiple layers are presented with lucid way. Still, director Lokesh Kanagaraj has succeeded in maintaining the tense situation. What is more, the movie doesn't deviate into a romantic thread or take an excuse for a song. There are no songs in the film. There is also no female protagonist.
Amidst the action melee, the core element is father-daughterer sentiment drama. The scenes of Karthi's yearning to see his daughter pulls your heartstrings.
The action stunts (the are aplenty) are realistic. However, the action-blocks get too repetitive in the second half and the sequences in the SP's office in the later part test the patience. They need to be trimmed.
The excessive runtime is the main drawback. Also, some scenes are filmed in over the top manner.
Karthi has given fab performance once again. He is seen in a single dress throughout the film. He should be commended for accepting a role that lacks commercial values. He has proved that he can pull off any role with ease. Narain as the police officer is very impressive. Other actors have given convincing performances.
Action stunts and cinematography are top class.
Positives:
Gripping narration
Unique storyline
Karthi's performance
Terrific first hour

Negatives:

Too lengthy
Repetitive scenes in the second half
Serious tone

Verdict :

'Khaidi' is a riveting thriller with a different storyline, gripping narration. It is narrated in international format sans songs. There is no heroine either. Multiple threads are explored in this drama that might appeal to serious cinema lovers. It is for niche audiences.

Telugu360 Rating : 3/5