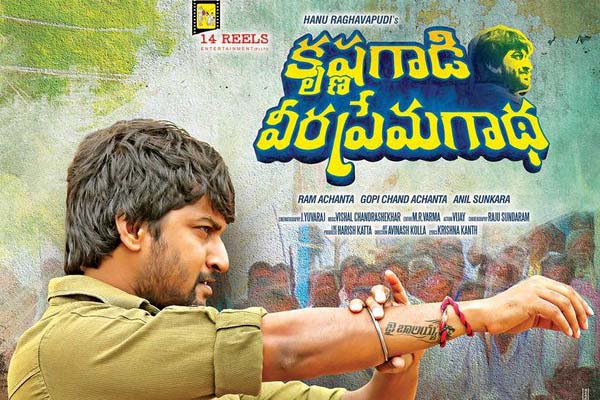 Krishna Gadi Veera Prema Gadha Live Updates
Weakness : Not many. All credit goes to the director Hanu Raghavapudi and Actors who excelled in their roles.
Strengths : A very different story line, Comedy and Crime interlaced screenplay. Nani and Prudhvi's comedy scenes. References to Balakrishna and Pawan Kalyan. Hero – Heroines chemistry. Great production values from 14 reels team.
7:37 AM: Movie Over ! except two 5 minutes each drag in second half… Movie is Good
7:19 AM: Suspense elements are handled convincingly and movie is heading towards climax .
7:11 AM: Song Time : "UlikkiPadaku Ulikkipadaku " .. Funky and Trendy Picturisation
7:06AM: Comedy scenes between Prudhvi and Murali Sharma are good.
6:58 AM: Krishna's Job is to rescue the kids and handover them in Hyderabad. Funfilled journey
6:30 AM: Prudhvi introduction as Inspector Jamadagni . Nice comedy bit !
6:25 AM: Interval ! Romance , Comedy , Crime and Suspense well blended movie. Very good work by the director so far !!
6:15 AM: Pre- Interval Block is Extra Ordinary. Director Hanu Raghavapudi Excelled !
6:00 AM: Actor Sampath role as ACP is one of his career best. As a sincere,ruthless police he did good
5:45 AM: The rivalry between two faction groups, suspense elements been dealt well
5:30 AM: " Nuvvante Na Navvu " song visuals are colorful and rich. Krishna – Mahalakshmi chemistry is good
5:20 AM: Heroine Mahalakshmi ( Mehren Kaur ) is super cute ! Love scenes between Krishna – Mahalakshmi are good.
5:15 AM: Nani been introduced with a song " Ra Ra Raavera " , followed by a comedy scene.
5:05 AM: Story opena in Anantapuram, showing a failed attempt to murder of a faction leader. Photograhy is good !
5:00 AM – Show Time #KVPG ; 145 Minutes Duration !
Krishna Gadi Veera Prema Gadha ( KVPG ) starring Natural Star Nani, Lovely Mehrene Kaur in lead roles is all set to release in India on Feb 12th , on Feb 11th Thursday Premiers in USA. Hero Nani who is riding high on success is confident about that KVPG will further consolidate his position. KVPG is produced by Ram Achanta,Gopichand Achanta and Anil Sunkara under popular 14 reels entertainment banner. Hanu Raghavapudi,who got reputation as a director with different taste ,has handled the direction department for this movie.
Promos of KVPG are promising and already generated enough curiosity to raise expectations on this Romantic Comedy Entertainer.After the super success of Nani's previous outing Bhale Bhale Magadivoy, Krishnagadi Veera Prema Gadha has done solid pre-release business. Whether this mid tier budget movie stands up to the hype or not we need to wait and see.
Keep watching this space for KRISHNA GADI VEERA PREMA GADHA LIVE UPDATES !
02/12 FRIDAY 5:00AM India Time i.e. 02/11 Thursday 6:30 PM EST onward