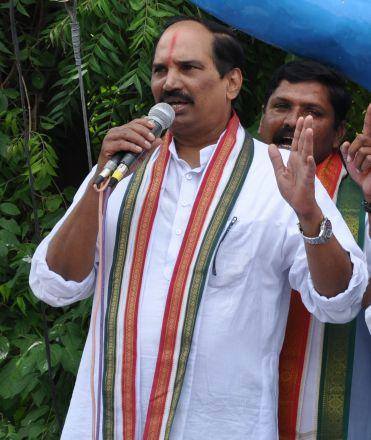 Telangana Congress is planning to knock at the doors of High Court against the large scale eradication of voters in the name of bogus voters. The party held a meeting on Friday to discuss the issue and steps to be taken to prevent the elimination of genuine voters from the fear that they may vote against the TRS in the ensuing GHMC elections. The majority voters constitute the people of Rayalaseema and Andhra origin. In Sanath Nagar alone, the constituency represented by Marri Sashidhar Reddy, 1.31 lakh names have been identified for elimination, according to Congress leaders. The party urged the Chief Electoral Officer Bhanwarlal to set aside Somesh Kumar as GHMC commissioner till the GHMC elections were held. PCC president N Uttam Kumar Reddy alleged that about 17 lakh names of voter were under elimination process and was being done under the very nose of T GHMC commisioner Somesh Kumar.
The party accused that TRS government blackmailing the officers to do the job and some officer had become willing agents of the government.
The party also represented the chief electoral officer to post the entire list of deleted names in the elections commission's website.
The meeting also took serious objection to the state chief electoral officer Bhanwarlal going to CM.
The leaders felt that as the representative of Election Commission CEO was not supposed to meet the chief minister K Chandrasekhar Rao. Party working president Bhatti said names of those who are likely to vote against TRS were being deleted. The meeting was presided over by PCC president and attended by among others Bhatti Vikramarkha (working president), senior leaders Danam Nagender, Kyama Pratap, Sabita Indra Reddy, Anjan Kumar Yadav, Marri Sashidhar Reddry, MLC Prabhakar etc.
In the afternoon the T-Congress leaders, Bhatti, Danam, Karthika Reddy etc represented the matter to CEO Bhanwarlal. Bhatti told media that CEO assured them that he would ensure no eligible voter would deleted from the list.