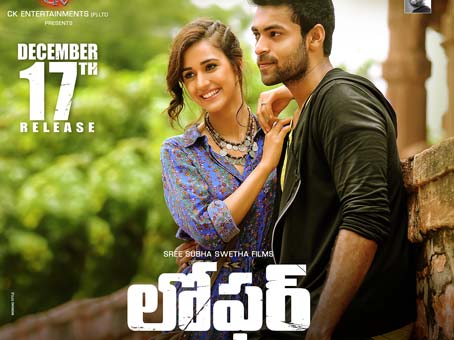 LOAFER MOVIE REVIEW :
Loafer movie, starring Varun Tej and Disha Patani in the lead roles, released on December 17th. Eccentric director Puri Jagannadh led the technical crew, while senior actress Revathi and actor Posani Krishna Murali played the lead supporting roles. There were no high expectations surrounding this movie, let us see how this movie is shaped up.
Story:

 
A cheater husband (Posani Krishna murali) marries a rich lady (Revathi) with an eye on her family properties. Sensing his intentions, after marriage, Revathi refuses to get her share from her family. Posani then involved in quarrel with her, snatches his one year old son and runs away from the home. Posani settles in Jodhpur(Rajasthan), trains his kid ( Names him as Raja) as a pickpocketer and this kid imbibed a selfish personality right from childhood. Posani tells Raja(Varun Tej) that his mother died in childhood.
Parijaatam ( Nick Name Mouni) , played by Disha Patani, is a lady who doesn't like her arranged marriage proposal with Rich mining baron (Ali) and runs away from home. She too reaches Jodhpur, begins working as a guide at local forts.Parijaatam bumps into pickpocketer Raja in Jodhpur while he tries to steal her antique suitcase and this introduction turns into love.
Meanwhile, Parijatam and Raja's mother (Revathi) get to know each other in their native place. How are they related to each other? How does Raja comes to know his mother is alive? How does he try to get acceptance from his mother? How does he rescue the local people in his hometown from the clutches of villain Mukhesh Rushi ? To know these, watch the movie on big screen
What worked well ?
Not much though! Varun Tej is Raja here. This is his first mass appearance and looks good in the role and acted well in couple of sentiment scenes. Posani Krishna Murali got a lengthy role and acted well, so does Revathi as his wife. The sentiment song "Suvvee Suvvalamma" is melodious to listen and good to watch. Other than these few, it is hard to recollect anything that worked well. P.G.Vinda's photography is good with appropriate lighting
What should have been better?
Everything! It is surprising to see Puri Jagan dish out such a flat film like this especially after giving a movie like Temper. It is completely outdated. In any disaster movie, there will be at least something to offer the audience, it fails primarily because negative points overshadow the positive ones. In Loafer, there are absolutely no positive points to think about and all you see is a lame duck story and direction, none of the typical Puri Jagannadh elements are present. It is a wonder that he convinced the hero and producer to accept this movie. Songs placement is inconsistent. First three songs come in first 50 minutes. Sunil Kashyap's music is far from impressive. Here is the Songs order : " Nokkeyyi , Docheyi " , "Nuvve Edustunte" , "Jiya Jalein", "Suvvi Suvvalamma" and "Chutta beedi"
Dialogues:
Again Puri Jagan's mark is clearly missing even in this department. The mannerism he used for Brahmanandam's cameo role is inspired from RamGopal Varma's popular twitter hashtag #JustAsking. Looks like Puri Jagan has assumed "Pain measured in 'Del' or 'Dol'" hoax articles, which are in circulation over the internet, are real. He used it in Revathi's context and tried to convey those as authentic information. He or any other director should avoid such half knowledge exhibition, there is no such scientific measurement for pain. For some moviegoers, this terminology is beyond comprehension.
Verdict:
Loafer is a movie which offers nothing to any section of audience. Though the first half is passable to some extent, second half becomes unbearable with back to back meaningless scenes ,fights and clichéd climax. Even the attempted mother sentiment failed big time because of the inability of the director to generate sympathy on any of the characters involved.
Telugu360.com Rating 2/5