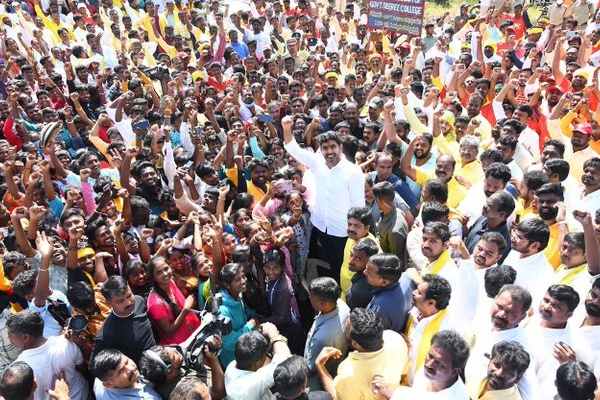 TDP general secretary and former minister Nara Lokesh completed his 100 days of Yuva Galam padayatra on Sunday. He also completed 1269 kilometres of marathon walk by the day.
Party chief Chandrababu Naidu congratulated Lokesh on completing the first 100 days of the padayatra. Naidu tweeted on his twitter handle saying "My best wishes to Nara Lokesh on completing 100 days of Yuvagalam. I am sure the time he spent on the road would have brought him closure to see and feel the real problems of people. Many more miles to go."
Earlier on Sunday, speaking on the occasion, Lokesh said that "The coming TDP government will accord top priority to forest protection and separate funds will be allocated for this purpose. We will certainly be partners on the 'Save the Tiger' campaign."
As Lokesh's pada yatra, Yuva Galam, entered the Velugodu forest area, the representatives of the 'Save the Tiger' campaign and the Assistant Director of the India Wildlife Conservation Society, met him and discussed the steps to be taken for the protection of tigers in the forest region. Thanking Lokesh for becoming a partner in the 'Save the Tiger' campaign, they brought to his notice the steps initiated by other States to develop tiger ecotourism circuit and to protect tigers.
Stressing the need to protect forests, tigers and other wild animals, Lokesh said the coming TDP government will certainly encourage eco-tourism. "I am personally interested in this as I know how other countries like Singapore are focussing on eco-tourism," he added. The coming TDP government will certainly work towards giving better living standards for the people of the State, Lokesh noted.
Observing that the Jagan Mohan Reddy Government is looting the State, Lokesh said that the sand mafia is ruling the roost now. "During Chandrababu Naidu regime several developmental works were taken up following which the construction workers were busy. Now there is no work for all of you due to which you are struggling to earn your livelihood," he remarked and assured them that once the TDP forms the next government all the necessary steps will be taken to provide full employment to them.
My best wishes to @naralokesh on completing #100DaysofYuvagalam. I'm sure the time he spent on the road would have brought him closer to see and feel the real problems of people. Many more miles to go… pic.twitter.com/yLwJe8bs3c

— N Chandrababu Naidu (@ncbn) May 15, 2023