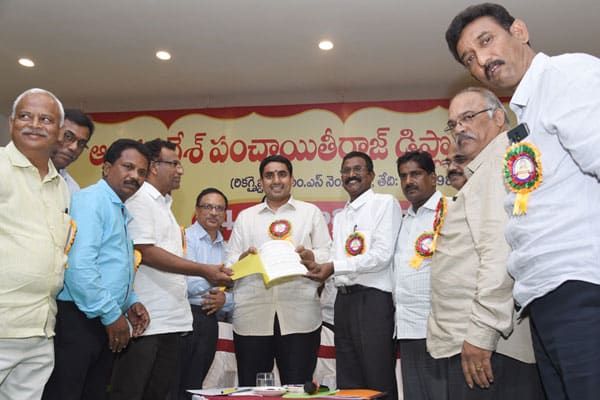 Vijayawada: Minister for IT, Panchayat Raj and Rural Development Nara Lokesh on Tuesday promised to solve the problems of the Panchayat Raj diploma engineers. However, he wanted them to give him time to study the problems and solve them in a phased manner.
Lokesh attended the 40th anniversary celebrations of the Panchayat Raj Diploma Engineers Association. He regretted that the successive governments have neglected the genuine request of the diploma engineers who have been asking for promotions. He said that the diploma engineers are working in the grassroots levels mingled with the people. They were playing key role in the development of the villages, he said. He further added that he would discuss the issue with the senior officials of the department and see that the diploma engineers are given promotions.
The Minister wanted the engineers to back the efforts of the government in developing the villages. He said that migration to the cities would stop if the villages are developed and basic infrastructure like health, education, sanitation, drinking water and electricity are provided. He said that he had set a target of 10,000 kilometres of cement roads in the State and wanted the engineers to help him.
Lokesh said that he had assumed charge just 45 days ago but was able to understand the problems of the departments he was holding. He said he would be available for the people and employees to learn their problems and wanted them to meet him any time.
Diploma Engineers Association president Shaik Riaz Ahmmad, APNGOs president P Ashok Babu, Panchayat Raj Engineer-in-Chief C V S Rama Murthy, employees JAC leaders S Chandrasekhar Reddy, A Vidyasagar Rao and others were present.