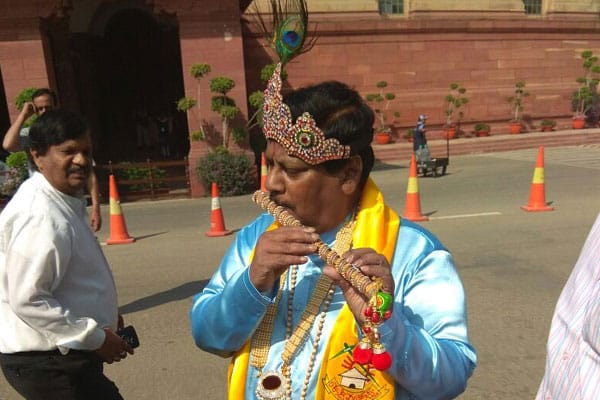 Chittoor TDP MP Naramalli Sivaprasad once again amazed the national media, and state media, that has stationed itself outside the parliament. The MP who is famous for his unique attires was seen in the avatar of Lord Sri Krishna this time.
With a crown on his head and a flute in his hand, Sivaprasad expressed his protests in a unique manner.
The TDP MPs protested in front of the Mahatma Gandhi statue in the Parliament premises. With the parliamentary budget sessions resuming from today, the TDP MPs continued their protests for 'AP Special Category Status' in both the houses of the parliament and outside the parliament.
They were seen holding placards and shouting slogans for AP Special Category Status. Speaking to the media, the TDP MPs said that, 'It is time for the Centre to take an immediate decision. The Centre declare a timeline for fulfilling the commitments promised in the AP Reorganization Act 2014, and other benefits under Special Category Status. If they fail to meet our demands, the protests will be escalated to the next level.'
Despite the fact, the people of Telugu states are against the Centre, the BJP-led NDA government has continued to ignore the protests outside the parliament and in the state.