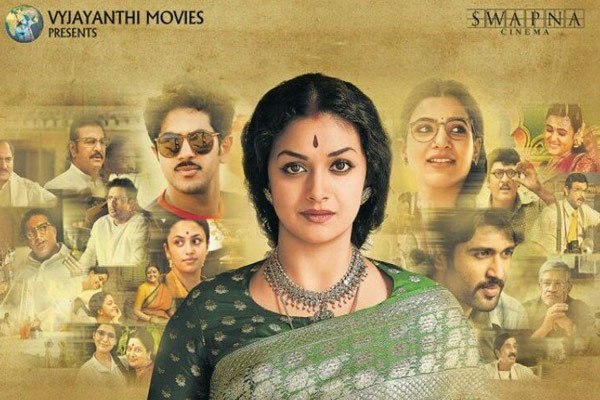 Mahanati is not only a rich tribute to arguably Telugu cinema's greatest actress Savitri but is also Indian cinema at its finest. Mahanati is a true retelling of life and times of Savitri right from her childhood to her death. At the end of the film, you will pause for a moment to just think about what a woman Savitri must have been and can't help but feel sorry for her fate, a glorious star who was too generous and innocent pushing her to a tragic demise.
Despite being a broadly known story of the rise and fall of Savitri, Mahanati still grips the audience because Keerthy Suresh's performance of Savitri is not just restricted to imitation but she lives a fully fleshed out character and audience will be transported to the era of the 1950's thanks to meticulous production design, makeup and cinematography. within few minutes into the film, one is fully immersed into the character of Savitri thanks to the performance of a lifetime by Keerthy Suresh. Keerthy Suresh is also surrounded with an ensemble cast, all of whose performances are memorable especially Dulqar Salman who plays Gemini Ganesh does a great job and compliments to him for agreeing to do this role.
Naga Ashwin cleverly narrates the story through the journalists Madura Vani and Vijay Anthony who reveal the life of Savitri as they themselves discover it. The writing is so comprehensive that I felt invested even in the characters of Madhura Vani and Vijay Anthony who also have their own love story going on in parallel. No wonder top stars like Samantha and Vijay Devarakonda have agreed to play these roles despite not being the main leads in the film. The performance of Samantha in the last scene of the film is probably her best till date.
Naga Aswin employees all resources at his command from production design to background music to the line up of actors to sweep you into the life of Savitri backed by solid writing. Every episode in the film is convincing and one leaves the theater with a sense of satisfaction and understanding of the nature and character of Savitri and also the circumstances which led to her downfall. The film is as much a tribute to one of the golden ages of Telugu cinema as it is to Savitri. The film is filled with behind the scenes trivia and inter spread with reenacting of classic songs and scenes that have been so strongly etched in our memory. It would surely make the generation of our parents Nostalgic about the hits of their growing up days.
Mahanati without doubt belongs to the Classics folder of a cinema enthusiast and credit to director Naga Aswin and the producers Vyjayanthi films for backing him up. As Swapna Dutt (Producer) had mentioned in the Audio release of this film, Vyjayanthi movies may have had many a blockbuster it was also time to gain respect. She was right, with Mahanati, they have earned respect.
— Vidyuth Chikoti
Telugu360 is always open for the best and bright journalists. If you are interested in full-time or freelance, email us at
Krishna@telugu360.com