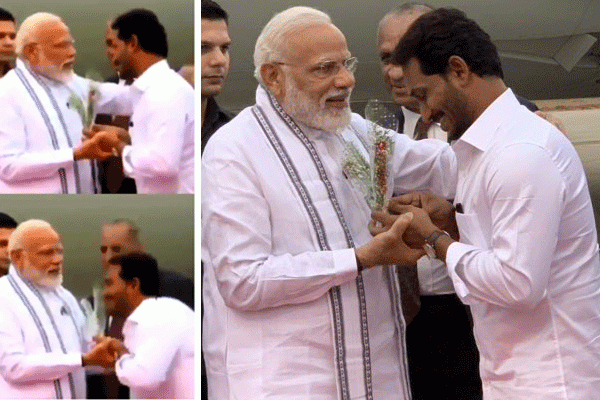 Today Modi visited Andhra Pradesh and as per protocol, Governor, chief minister Jagan and his team went to receive the prime minister Modi. Now while showing the news, the way Sakshi team creatively edited the video and deleted the portion where Jagan bending before Modi , became talk of town among media circles. Details as below.
Actually it is quite common to respect elders by touching their feet in Indian culture. But when it comes to politics, all the equations change. In fact Sakshi channel did enough damage the image of CM Kiran Kumar Reddy when he showed similar gesture while receiving Sonia Gandhi at airport. During last 5 years also, Sakshi did similar negative campaigning on Chandrababu at every given opportunity. By showing such visuals, Sakshi always tried to project that these leaders ( Kiran Kumar Reddy, Chandrababu Naidu) are spineless and Jagan is completely different from them.
But now, Jagan doing similar bending in front of Modi and Sakshi editing those visuals, became talk of the town. Only thing people are expecting from the government is – it should not bend before Modi and compromise on the rights and benefits state has to get from the centre.
Sakshi video with editing:
NTV video without editing:
Telugu360 is always open for the best and bright journalists. If you are interested in full-time or freelance, email us at
Krishna@telugu360.com