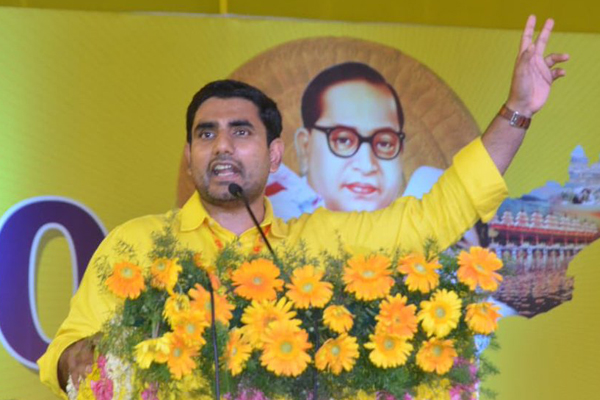 Nara Lokesh, cabinet Minister for Information Technology, Panchayati Raj and Rural Development in Andhra Pradesh, goes hi-tech in his administration. At least, that's the impression one gets after seeing his ministerial dash board ( http://www.mydepartments.in/PRRWS/ministerHomePage ).
The dashboard has the details of developmental activities, spending in his ministries, various G.Os related to his ministries and many other statistics. It has pages for – Panchayat Raj, PR ENC, Rural development, Rural water supply and IT E&C. In fact, the dashboard contains the details categorized by ministry, by year, by scheme, and by department. Even though having a dashboard and monitoring the progress of various tasks through the dash board and making the administration transparent is not a new thing, as several chief ministers, union ministers also already have dashboards, but state minister having a dashboard and that too with such minute details is rare and probably, it is not an exaggeration if one says no other minister at state level in India has this kind of a detailed dash board.
For example, fibre grid dash board gives the statistics at the level of village, mandal, zone and district level – like how many villages are connected, how many working and how many not working.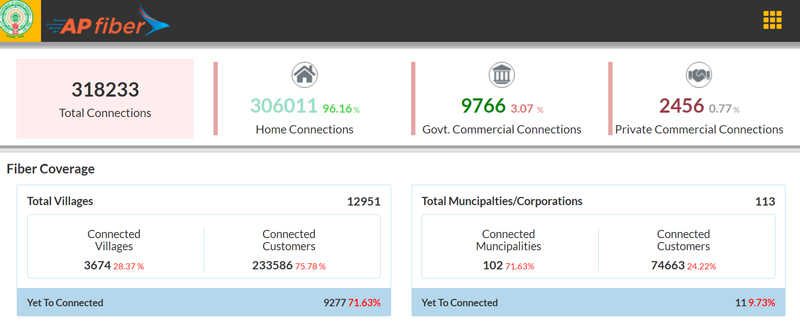 Or if you check the page for NTR Sujala, it gives the details of mother plants, remote dispensing units and the health status of overall scheme. The details provided in the dashboard seem to be transparent for e.g. NTR Sujala page clearly says, out of 27 mother plants, only 7 plants are in good health status while 20 are in bad status and out of 368 remote dispensing units, 275 are in good state and 93 are in bad state. It not only gives statistics but also gives details of which plant is actually in bad status. Or if you check Panchayat Raj department overview, it gives the details of each and every scheme, the total amount spent on that and corresponding government order for that. It is surprising to see the details of various schemes and the amounts spent on those schemes in 12,952 villages being present in the dash board and that too the statistics are available for each and every year.
'A lack of transparency results in distrust and a deep sense of insecurity', quotes Dalai Lama. This applies to governance too and transparent administration is one thing that everyone aspires for, in a democratic country. But until RTI act, it was very difficult in India to get the details of any information related to governance. But RTI also, was a provision given to citizens. There was not much initiative from rulers across the states in India to make their governance transparent except for some CMs and some union ministers. Even some of these dashboards that have been created are not giving comprehensive details. But Lokesh's dashboard stands out as it tries to capture details at very minute level and gives details at very micro level. Probably this dashboard may become a trendsetter among other ministers across the country. Of course, if that happens, it would be a welcome change in the country.
-ZURAN