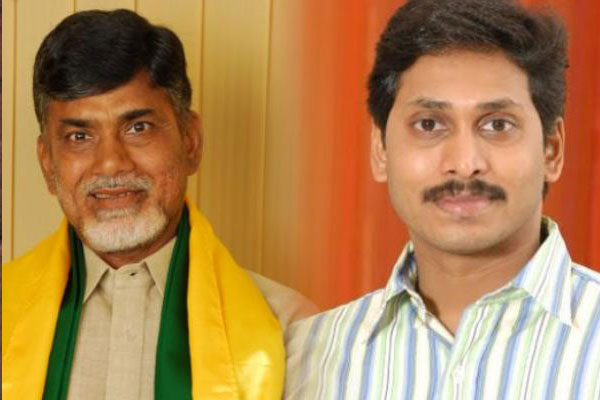 A bitter battle between ruling Telugu Desam Party and Opposition YSR Congress over the liquidation of the other seems to have reached its peak. The voters, always mute spectators, have no option but to wait and watch the murky political games going to be staged before them in the next three years. Both sides are getting hysterical, as the time passes, with their game plans failing to reach fruition. TDP claims half of the YSRC MLAs are in touch with the TDP, Jagan says the day he would topple the TDP government is not far off. Both sides allege the other party is trying to buy their MLAs.
Chief minister Chandrababu Naidu is desperate to replicate KCR's model in Andhra Pradesh and ensure that there is opposition in Assembly. The obliteration of opposition is happening in Telangana where Naidu has lost nine MLA- four in the past fortnight and all they joined TRS. Now the defectors are claiming they are the real Telangana TDP and want to merge with TRS. They have sought speaker's permission for the merger. Though it's a extremely painful, Naidu is not in a position to wage a battle to keep his flock together on TRS turf, Telangana. Beleaguered Naidu realized that KCR could humble him in the city where he claims he etched his imprint indelibly, because of the political and money power. If power and money could enable Telangana chief minister to liquidate TDP, why not he replicate the T-experiment in Andhra Pradesh and derive satisfaction? Naidu is said to have asked all the ministers and other senior leaders to catch hold of every opposition MLA who passes by their way. TDP leaders fed newspapers all types of stories about the possible mass scale defection of YSRC MLAs into Telugu Desam party. According to these stories at least 35 MLA are expected to join the TDP after budget session. Though the news can't be crosschecked for veracity, it did create jitters in Jagan's camp. See the reaction from the opposition party; all the MLAs have been forced to come before TV cameras to deny the TDP statements and express loyalty to Jagan and YSR.
On the other side, opposition Jaganmohan Reddy, who is allegedly worth thousands of crores, is also waiting for an opportunity to strike at Naidu. Toppling TDP government is not Jagan's hidden agenda but a publicly avowed goal and a time bound program to boot. Last year, he said TDP government would fall in 2 or 3 years. The telltale sign of Jagan's impatience is the way the opposition leader struggling to convert every opportunity into a revolt against Naidu in the state. The issues of special status to AP, Bauxite mining, employment, land pooling etc every major decision of the government has been used to mobilize people against Naidu. Jagan alleges  that Naidu has amassed money in various contracts and projects and wants to invest this in  destabilizing the opposition party. He says cash-for-vote incident as proof of Naidu's buying spree.
Yesterday he dropped hints that would reveal how many TDP MLAs were in touch with him at an appropriate time and topple the government in the next one hour. None can be stopped in their intense pursuit of power. We will just have to wait and see who will finish whom.
Telugu360 is always open for the best and bright journalists. If you are interested in full-time or freelance, email us at
Krishna@telugu360.com