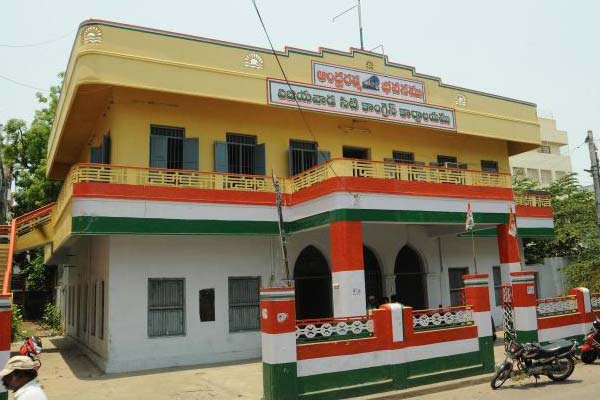 Andhra Pradesh Congress unit is shifting its base to Vijayawada. The party will start functioning from Andhra Ratna Bhavan, Vijayawada Congress office, from Friday. As the government is all set to move to Amaravati from June 15 and the TDP deciding to operate from Vijayawada, the Congress party also had to shift its base to capital city.
Now, the party is functioning from Indira Bhavan, a newly built office building in Gandhi Bhavan, T-Congress headquarters. To facilitate the shifting, recently Andhra Ratna Bhavan is given a face-lift. The new office, kept ready for the occupation of APCC president, will be inaugurated on February 19.
To mark the occasion, the party is organization a meeting of weaker sections. AICC in charge general secretary of Andhra Pradesh Digvijya Singh, secretary Tiruvanukkarusu, AICC SC cell chairman K Raju etc are participating in the meeting. Digvijay will inaugurate the new office and launch the formal functioning of AP Congress from Andhra Pradesh.
It was Digvijay Singh who first made public Congress' decision to divide the erstwhile state of Andhra Pradesh to carve out separate state of Telangana in 2013. After finishing the division, he is now inaugurating the Congress office at Vijayawada to complete the circle.
The ruling TDP has begun search for a suitable building to relocate its central office to Vijayawada. Naidu as party president convened a meeting of senior leaders and asked them to complete the shifting as early as possible. His idea is to make the TDP functional from Vijayawada before June 15 when the state government relocates to Amaravati without any trace in Hyderabad secretariat.
Regarding the Andhra Ratna Bhavan, it is a battle warn heritage structure in Vijayawada. Mahatma Gandhi also visited the office once during the days of freedom struggle. With Andhra Congress becoming AP Congress and started functioning from Hyderabad, Andhra Ratna Bhavan lost its glory and has been a neglected building ever since.
Now, once again the office is becoming the never centre for battles against the ruling TDP. The AP Congress will hold a meeting of coordination panel followed by the extended executive committee meeting on Friday.
"During these meetings, strategies would be formulated on how to revive the party in the reorganised State. We will debate on how to woo Congress Party's traditional vote bank in the State back to its fold. We will also chalk out an action plan to undertake agitations protesting against the anti-people policies of the State government," APCC chief N Raghuveera Reddy said.
Telugu360 is always open for the best and bright journalists. If you are interested in full-time or freelance, email us at
Krishna@telugu360.com