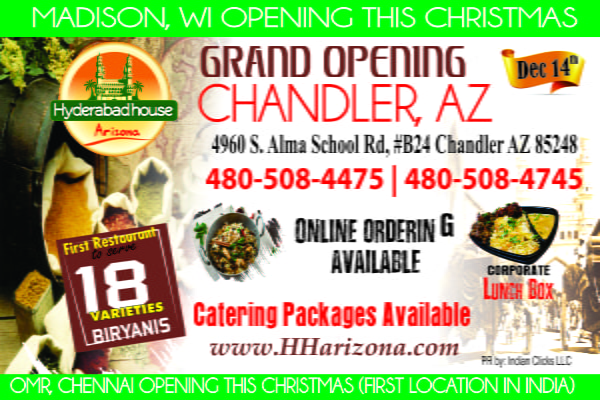 "Nawabi Hyderabad House Biryani Place" is extremely delighted to bring our hospitality to the Valley of Sun as HYDERABAD HOUSE, Arizona.
Above all else, a huge thanks from 'Nawabi Hyderabad House Biryani Place' staff and management for an overwhelming response and a warm Welcome to Arizona.
Hyderabad House Arizona excited and pleased to welcome you all at our new franchise conveniently located in Chandler, for the grand opening on 14th December 2018. We pompously say that our clientele will be experiencing the finest of the Indian cuisine experience in both ambiance and quality of food.
Check out our FB page to get a glimpse of our location interiors: https://www.facebook.com/hharizona
Experience our finest, authentic and distinct recipes of India, with all its exotic ingredients and tongue-tingling flavors that stem from traditional home cooking.
The diversified menu infuses new commendable recipes and authentic flavors that embraces Hyderabad House's famed Dum Biryanis, Curry Leaf Chicken, Monagadi Kodi Vepudu, Cashew Chicken, Ulavacharu Kodi Vepudu, Palnadu Mamsam vepudu, Avakai Chicken Biryani, Gongura Chicken Biryani, Vijayawada Chicken Biryani, Ulavacharu Biryani, and Rajugari Kodi Pulav are few of the many which are easily accessible for Indian diaspora in the vicinity.
Special mention of Lunch specials such as Executive Lunch Buffet to be served both from Monday to Thursday and Grand Lunch Buffet on Friday, Saturday and Sunday.
The upscale Indian chain, of course, offers its most famed Rajugari Bhojanam, where the lavish Indian spread is served tableside during once every month on 2nd Sunday for Lunch.
Gear up for our Weekend specials – Serving signature dishes crafted by our in-house chefs which have been mastered over the years with true customs.
While you are there, don't forget to inquire about our catering specials and Banquet Hall which are tailor-made and on demand.
We also have you covered for small parties or gatherings by creating a unique space for banquet hall which can accommodate 100-120 people fitted with state of the art facilities. Bring in your party crowd to treat them for a tasty food and shake your leg on our exclusive dance floor.
Excited with our new location, Franchisees Srikanth Nunna, Prasad Sakhmuri, and Phani Babu Tikkala said that it gives them immense pleasure to bring the legacy of the famous Biryanis, Pulavs, Signature Appetizers and other exclusive Indian dishes of Nawabi Hyderabad House to Grand Canyon State.
In their own words from franchisees – Franchisors Siva Yarlagadda and Vamsi Kallepalli have been of great support and made the progress seamless and dependable for the future. Nawabi Hyderabad House has been and continues to be dedicated to the promotion of our Fine Indian Cuisine Culture to a wider audience.
A big Shout to everyone and pleased to serve you all amigos. "Relaxing can be rewarding with our grand opening special of 15% discounts on services offered. Valid only from December 14th to December 21st 2018"
OPENING SOON LOCATIONS:
– MADISON, WI – 2018 CHRISTMAS
– Chennai, India – 2018 CHRISTMAS
– Kansas City, KS – 2019 January
ARIZONA LOCATION DETAILS:
ADDRESS: 4960 S Alma School Rd, B24, Chandler, AZ 85248
Contact: (480) 508- 4475 & 480-508-4745
Any Individual or Groups interested to know more about our franchise opportunities, please reach out to
USA: JP (Jayaprakash Reddy) @ 309-660-2787.
CANADA: Raja Kalidindi @ 647-960-4499
Press release by: Indian Clicks, LLC
Telugu360 is always open for the best and bright journalists. If you are interested in full-time or freelance, email us at
Krishna@telugu360.com