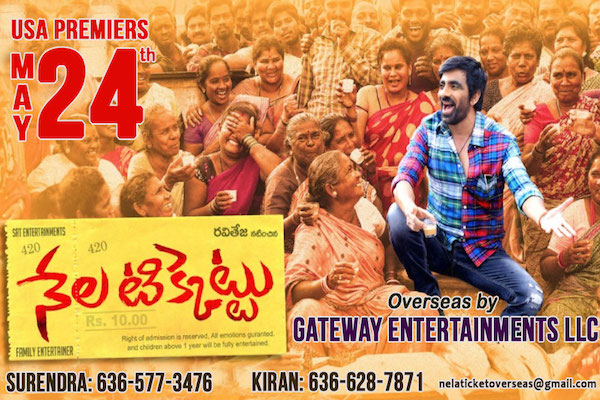 Gateway Entertainments is happy to announce that, we will be releasing this year's one of the biggest Telugu movie Nela Ticket produced by SRT ENTERTAINMENTS in USA.
Starred by Mass Maharaj Ravi Teja directed by Kalyan Krishan Kurasala and produced by Ram Talluri. Nela Ticket is promised to be a wholesome entertainer with a lot of family emotions.
Music by Shakthi Kanth (Fida Fame) and Cinematography by Mukesh.
Himalaya fame Malavika Sharma is debuting in Telugu with this film.
Recently released teaser of Nela Ticket got a tremendous response and had a record number of views.
Click Here!! for the Teaser.
Nela Ticket will be released in grand scale in USA with premiere shows from MAY 24th.
Enjoy the film on the big screen near you.
We thank producer Ram Talluri, Director Kalyan krishna garu and our Mass Maharaj RAVI Teja for handing over the release of Nela Ticket the most anticipated film for 2018 in USA.
Gateway Entertainments is debuting into distributing films overseas with Nela Ticket Movie.
We thank all telugu movie lovers in USA and our friends in TFI for giving us this opportunity.
For Trade inquiries please contact:
Surendra: 636-577-3476
Kiran: 636-628-7871
Email: nelaticketoverseas@gmail.com
FYI, for Non USA distributor please call us at –
Surendra: 636-577-3476
Press note released by: Indian Clicks, LLC