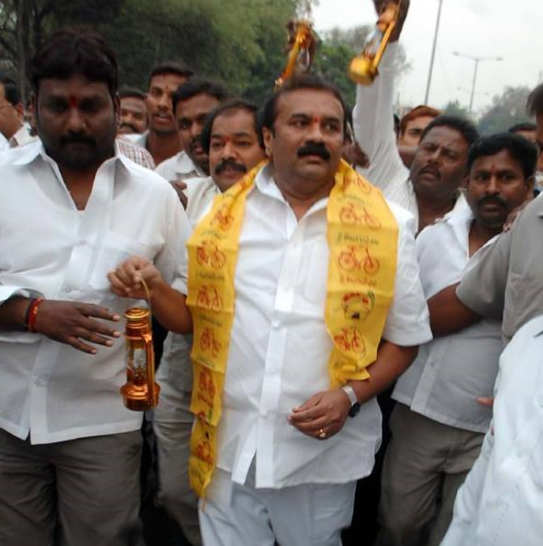 Telangana TDP today raised its voice against the Raj Bhavan's inaction on getting Talasani Srinivasa Yadava, commericial taxes minister, resigned from cabinet and Assembly. For the past few days it was the Congress which took lead in questioning the continuance of Talasani. The party even invoked RTI Act to know the status of the resignation of minister from Speaker's office.  Having realized that the Congress was stealing show, the TDP today called on the governor ESL Narasimhan and presented a memorandum seeing action against Talasani Yadav. However, the party however was not happy with the cool response from the governor. After coming out of Raj Bhavan the leaders suddenly sat on dharna at the gate condemning the inaction from Governor. They were also critical that even chief minister K Chandrasekhar Rao was also unethically allowing a TDP member continue in the cabinet.
Later, police entered the seen and took all the TDP leaders in to custody.
Talking to media, T-TDP's working president E Dayakar Rao alleged Yadav misled everybody by stating that he had already sent in his resignation to the speaker's office. "It is the responsibility of the speaker's office to give clarity on the resignation of Yadav.  He also called upon chief minister KCR to take a moral stand on the issue and ask Yadav to resign and return to the Assembly by winning the by-election.