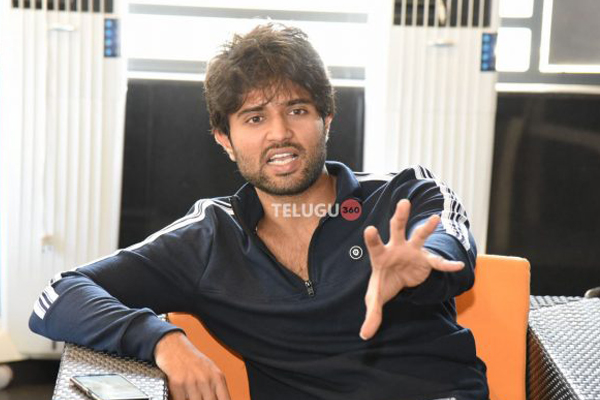 Vijay Deverakonda Taxiwala interview
"Taxiwala" is actor Vijay Deverakonda's third release this year and is probably the most "fun film he has done so far. He says there's no insecurity about his career as far as the pace of his work is concerned.
Excerpts from an interview:
Q. Is "Taxiwala" your most fun film to date or am I imagining things?
A. It is Fun with a capital F. I had a ball shooting it. It was hilarious from when I heard it. I was super kicked about performing it. But the best part was, it is different. It isn't a comedy, the characters aren't having fun, their suffering is the viewers' fun. Does that sound sadistic? But it's true. Is it most fun? I'll wait for the audience to tell me that.
Q. This is your third release in a year. Do you intend to keep up with this volume of work?
A. I never intended this either. It just happened. The volume of interesting work that is offered, exciting new talents and big names that are keen to collaborate make it hard to say 'no'. And if this year I have three releases, there may come a year soon when I have none.
If I don't like any of the scripts, I will say no to all of them.There is no insecurity about my career. But I am cutting down on work from next year, I want to spend more time on each project from start to finish, and enjoy it. I don't like the pace I am working at currently.
Q. Your rise as one of the top actors in Telugu cinema has been quite spectacular. How has your life changed during the past two years ?
A. I've been working so much that I haven't had time to notice what's happening around me. Maybe it's better to not see the change around me. Do I even need to notice that change is another question I ask myself. I enjoy doing my work and living my life at my lazy pace.
Q. "Nota", your last film mapped the rise of a young literate Indian to political power. The same theme recurs in the Vijay-starrer "Sarkar"? Are we looking at the resurgence of the star politician?
A. Both. Arjun is irresponsible with himself, but is responsible with his girlfriend Preethi and his profession. "Nota" had me as a responsible politician but an irresponsible young adult. That's how we are all as people. Grey.
Q. What is your take on the way the #MeToo movement has impacted the Indian film industry? Are you more guarded with your co-stars than you used to be?
A. Live and let live.Cause no harm. Mind your own business. Chill and be happy. These are my moral standards, that's all I'll hold myself responsible to. Nope, #MeToo hasn't changed my rapport with my co-actors. I am as chilled out with them as they're with me.
I don't know what impact it has had on the industry, but the concept of harassment anywhere makes me pissed from my core.
Q. Your "Arjun Reddy" is being remade in Hindi as "Kabir Singh". Your take on actor Shahid Kapoor playing your role, and title?
A. I used to trip on Shahid's "Ishq Vishk" and I struggled for days to get tickets to "Kaminey". I danced my ass off to "Dhan-tanaa" from "Kaminey" with my friends behind closed doors. So it's extremely strange when I think of the fact that he is playing the role I did.
I am sure he will have his own interpretation. Other than that, I just wish them the best and will wait to watch it like any other member of the audience.
Q. What should your fans expect from you in "Taxiwala"?
A. Something completely different from everything I've done so far, that's for sure. Laugh out loud. Scream out loud.
Q. Your next release?
A. "Dear Comrade" with another new director Bharat Kamma .The shooting is on… Trying to hit your hearts and emotions hard with this one.