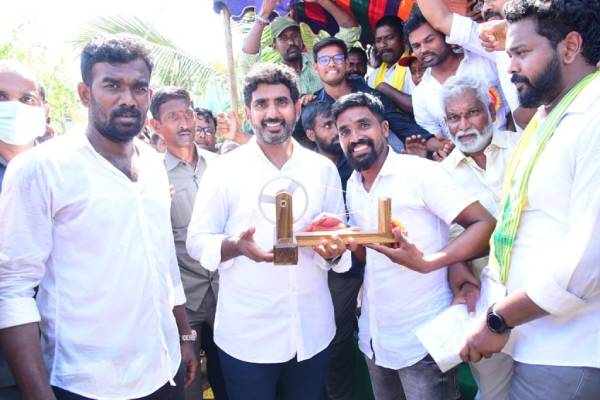 Almost all sections of people are suffering a lot and not even a single section is happy with the YSRCP rule, said TDP general secretary, Nara Lokesh, on Saturday.
Lokesh's pada yatra, Yuva Galam, entered Dharmavaram Assembly segment on Saturday from Rapthadu segment where he is given a warm welcome by the local party leaders and activists, who gathered in large numbers under the leadership of Paritala Sriram, to receive their leader.
After watching the TIDCO (The Andhra Pradesh Township and Infrastructure Corporation) houses repainted, Lokesh remarked that "this sticker Chief Minister is colouring the TIDCO houses and he is the best colouring master."
Observing that Chief Minister, Jagan Mohan Reddy, is somehow or the other reducing the number of beneficiaries of all the welfare schemes, Lokesh also termed Jagan as a cutting-master. "The TIDCO houses were built during the TDP regime and Jagan is now repainting these houses to claim them to be that of his Government," he stated.
At Namala Cross, the workers of the Satya Sai Water Works met Lokesh and complained to him that their salaries were not being paid on time. "Only when we go on an agitational path at least once in six months, our salaries are credited. Otherwise, no one is responding to our appeal," they informed Lokesh and demanded that the 572 staff members who are now working for the Satya Sai Water Works be recognised as government employees.
Strongly condemning the State Government policy to neglect the Satya Sai Water Works project which was meeting the drinking water needs of the people of the combined Anantapur district, Lokesh said that the non-payment of the power bills and the salaries of the employees clearly indicate the bankruptcy of the Jagan Government.
He assured the workers that soon after the TDP is back into power the water works project will be adopted by the government and all the dues of the employees will be cleared.
Lokesh affectionately interacted with those who have come to meet him and inquired about the problems they are facing. Majority of them complained that the prices of essentials are skyrocketing and no welfare schemes are being implemented.