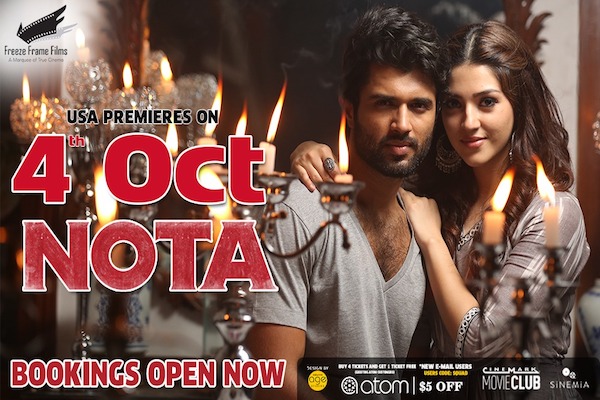 NOTA movie drives have been shipped and delivered to all locations across USA. Movie is getting a grand release in 150+ Theaters in Telugu & 70+ across USA.
Freeze Frame Films, a leading distributor in the overseas market has planned a grand release for NOTA across USA in Telugu and Tamil languages.
The premiers are on 4th October with regular shows from 5th October. All locations have been confirmed. The movie length is 2Hrs 26Mins.
Premieres ticket price is $14 and Regular shows are $12.
Vijay, who is fresh off of the success of Geetha Govindam is super confident of NOTA, a political thriller and has promoted it aggressively.
Enjoy his electrifying performance at a theater nearest you.
CLICK HERE!! for the Telugu & Tamil USA Theaters List.
For trade enquiries please contact:
Pradeep @ 847-217-1258
Kiran @ 727-667-6771
Freeze Frame Films
Email: freezeframefilmsllc@gmail.com
Press release by: Indian Clicks, LLC