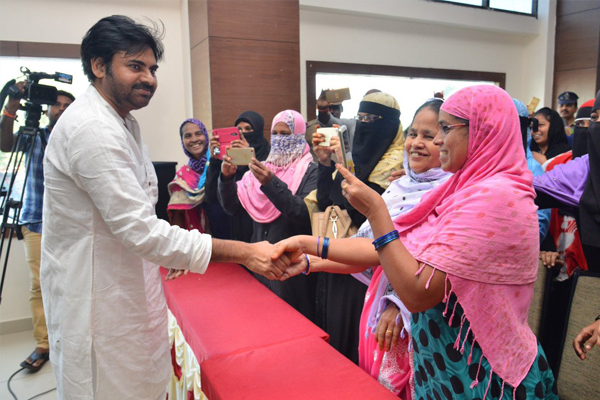 Jana Sena leader Pawan Kalyan is currently touring East Godavari with his Jana Porata Yatra. He addressed a public meeting at Ramachandrapuram on Tuesday where he took strong objection to YSR Congress Party president and Opposition leader Jaganmohan Reddy's comments against Jana Sena.
Pawan questioned the rationale behind Jagan's criticism of Jana Sena because the Opposition leader never cared to fulfill his responsibility to highlight people's problems in the State Assembly. Jana Senani mocked at YCP leaders saying that Jagan was criticising Jana Sena party with baseless allegations instead of carrying out his immediate duties. When the people made him the Opposition leader to keep ruling party under control by raising issues in the Assembly, Jagan never bothered to go to the House which showed his lack of public concern, Pawan said.
Jana Senani said that YCP leader was more interested in making public shows of affection by touching heads and cheeks of sympathisers during his padayatra rather than getting solutions for their problems by engaging in debates in the Assembly. Pawan also asked why Jagan was making personalised allegations against Jana Sena.
In East Godavari, there has been a very tough competition between YCP and Jana Sena to attract anti-TDP voters from different communities.