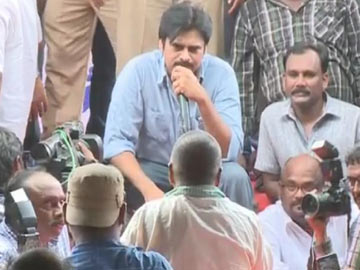 Pawan Kalyan's warning appears to have had its impact on state government, which wanted to complete the land acquisition in river side villages by the end of August.
Highly placed sources in the revenue department told T-360 that the idea of invoking land acquisition act has been kept in cold-storage for the time being. Chief minister N Chandrababu Naidu, who doesn't want lose Pawan, reportedly instructed officers to stop the issuing notification for the acquisition. Two days back first notification has been issued
The sources could not interpret the decision in political terms, but only said there would be no land acquisition for the time being. "The period will be used to persuade the farmers to part with their land in their own interest only . TDP ministers will hold talks with village leaders and convince them a good rehabilitation package will be made available to them," the sources said.
Keeping the land acquisition in abeyance would not affect the other activities such as construction of building, development of land etc, in capital region, the sources added. Even municipal administration minister K Narayana said the government was not in a tearing hurry to take the possession of lands from the farmers from the river front villages.
"Our only worry is to complete the capital construction by 2019. We are not against the interests of farmers in the capital region. We never said that we would acquire the land forcibly from farmers against their will," he said in Chittoor.
Talking about Pawan Kalyan's comment, he said actor pawan never had opposed the land pooling. "The land pooling program is still valid. It is open to all. Even the farmers from river front villages can avail the benefits from the program. " I am hopeful good sense will prevail. We will definitely convince farmer to give their land for the capital. Their interest will be taken care of," he said.