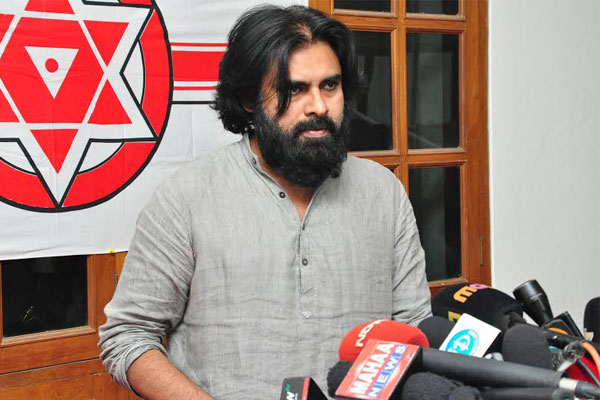 The worry that Pawan Kalyan's over enthusiasm would only add fuel to the fire the opposition trying to ignite in the capital region is said to have forced chief minister Naidu to keep the Land Acquisition (LA) process , set in motion last week, in abeyance.
According to sources in TDP, opposition YSRC is already in combative mode and rubbing the bellicose a actor on wrong side would aggravate the problem instead of helping address it.
TDP accused that YSRC wass fomenting trouble in these villages. stating that there had been concerted effort to incite the people oppose the land acquisition process, TDP sources said they knew who tutored the Pawan Kalyan before he reached Penumaka yesterday. "Our party knows well in advance that Pawan is getting feedback from a retired judge who has been campaigning against the new capital construction in Guntur district. Whatever Pawan spoke yesterday in Penumaka village was the version the Judge, who used to say this to the people here in number of villages and in round table meetings in Vijayawada," a TDP leader told T-360 on condition of anonymity.
According to TDP sources, Pawan should be stopped from slowly playing into the hands of forces, which are trying to scuttle the development of capital here. Even the reference to Rayalaseema in Pawan's speech was the turn phrase of the retired judge, the sources added.
"Now, if we take an antagonistic stand against Pawan, incidentally our own friend, it will be tantamount to helping YSRC which is organizing deekshas in these villages. What is wrong in Pawan asking us to convince people and take their lands with their consent," the sources asked.
According to him many issues raised by Pawan such as VANPIC, Rayalaseema agitation, Muralimohan land in ORR zone etc had already proved music to the ears of opposition YSRC. If ignored, Pawan would become more active at a time when YSRCP already in the fray mobilizing their party cadre against the land acquisition and it would further embolden these opposition parties, the sources said defending the government decision to keep the LA in abeyance.