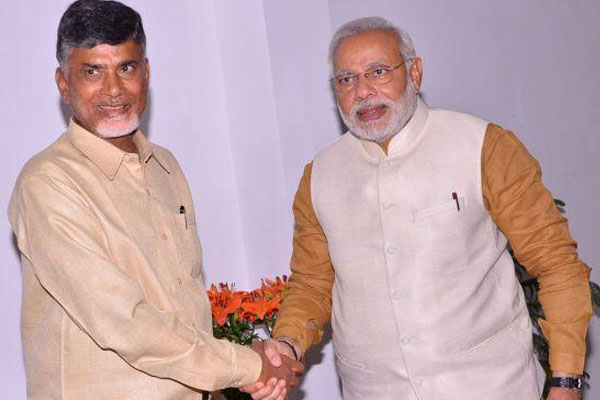 As centre has already pronounced a clear NO to special status', Chief Minister Chandrababu Naidu is expected to pitch for an equivalent special package before the Prime Minister Narendra Modi on Tuesday in New Delhi.
The summit meeting of Modi- Naidu is scheduled on Tuesday morning. Naidu who is leaving for the national capital this evening from Vijayawada will stay put there for two days.
Naidu has been trying to meet the PM on the special status issue ever since the Muni Koti, a youth from Tirupati committed self-immolation demanding special status. Again another youth attempted suicide in Krishna district on the demanding the same thing. Apart from this the CM is also under pressure from opposition parties as well following the Rs 1.25 lakh crore package the PM announced for Bihar AP CMO sources said the CM's appointment with the PM Modi is fixed at 10.30 am on Tuesday at 7, Race Course Road.
Union Home Minister Rajnath Singh and Finance Minister Arun Jaitley along with some other ministers are also expected to participate in the meeting. TDP sources are hopeful that Naidu will ask the PM to announce the package October 22 when Modi lays foundation for the new capital, Amaravati.
"The Chief Minister wants to ensure that all promises made to AP in the Reorganisation Act, 2014, such as announcing financial incentives, tax exemptions, new projects, financial aid to fill the revenue deficit and announcing sufficient grants to construct a world-class capital city are included in the expected package," welfare minister Ravela Kishorebabu said.
Ravela told T-360 that CM was fully confident about a massive assistance for the state. " The opposition parties are confusing the people of Andhra Pradesh."