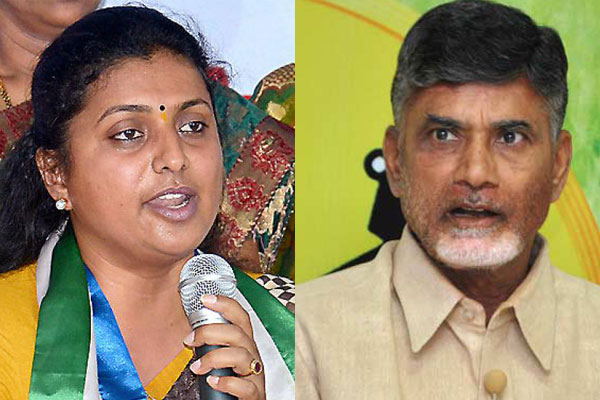 YSR Congress party MLA Roja today posed eight questions to chief minister Chandrababu Naidu and sought answers immediately in the interest of people of Andhra Pradesh.
She released these questions on the eve of Naidu's Delhi tour this evening. Naidu is meeting Prime Minister Narendra Modi tomorrow at 10.30 in the morning, purportedly to discuss the special status issue.
Roja is skeptical about Naidu's tour. As this is not for the first time Modi and Naidu meeting, she says Naidu owes answers to her questions as they are relevant to the development of the state. The questions are:
1. How many times have you met Prime Minister Modi and the issues you discussed with him? Release a white paper on these meetings and contents of the meetings as the people have the right to know them.
2. Are you in favor of Special Category Status to Andhra Pradesh or not?
3. Do you believe that centre is going to accord the Special Category Status to Andhra Pradesh ?
4. Do you want to continue in the NDA government in case Modi denies special status to Andhra Pradesh.
5. Can you with draw you ministers from NDA government and remove BJP ministers from state cabinet if Modi says 'NO' to special status?
6.Why didn't your party question the NDA even though there had been clear indication that there would be no special status to Andhra Pradesh. Centre is not implementing the provision incorporated in Andhra Pradesh Reorganization Act-2014, even though 14 months lapsed. Why didn't your party raise it?
7. There has been an allegation that you have traded the special status for your safety in cash-for-vote scam. In this connection you need to reveal the objective of your tour. Is the tour meant to extract special status or to bail out yourself from the case being pursued by Telangana ACB.
8. Do you want to preserve your status as chief minister or special status to Andhra Pradesh?
She sought support of all political parties, students, and other sections of society to the bandh the party called for on August 29, 2015