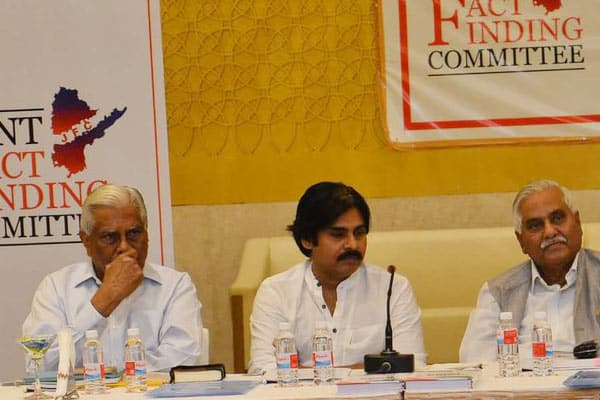 Pawan Kalyan full speech:
The reason for initiating something like JFC is because, the governments failed to fulfil the promises it made, which were indeed formulated by a group of people (with vast political experience) in the best interests of the bifurcated states. The unfulfilled promises and other problems arising from it continue to exist for decades together. This functioning is what led to the demand for Telangana state in the first place.
We at the JFFC felt that Andhra Pradesh MPs, during both the UPA and the current NDA government, have remained quiet in the parliament. Especially when it came to questioning Centre's commitment towards Andhra Pradesh. I have no idea, is it because for their personal gains, or for whatsoever reasons, the MPs have compromised the State's interests for their personal reasons.
The 'Consecutive leadership failure' has not only led to the deaths of hundreds of individuals during Telangana movement, or for the matter of fact, during Madras bifurcation, but also the impact is being felt on the students too. To ensure that this kind of mistake doesn't repeat in the future, we all are (at JFC) are going ahead with the well-directed thought process. The JFC is the first step to realize and achieve our goals. Once the JFC comes out with the report, we will surely inform you on how this would be taken at a political level.