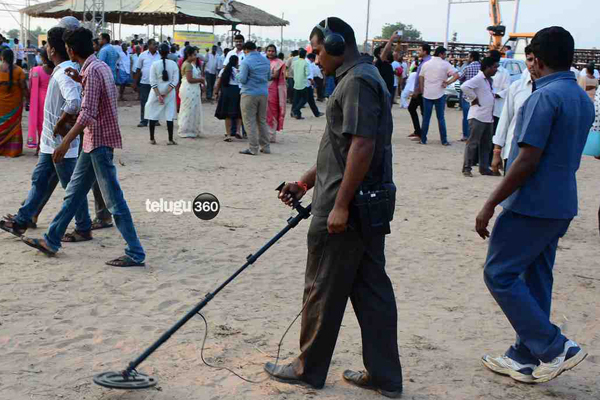 The arrangements for the grand ceremony planned for the laying for foundation stone are going full throttle in Amravati area with chief minister Naidu personally monitoring every aspect of the program from ritual of the physical.
On Tuesday, the special protection groups (SPG) of Prime Minister Narendra Modi has visited the venue and arrangements made for the chief guest's visit on October 22, 2015.The team of SPG expressed satisfaction over the facilities created at the venue for the PM. The team visited the spot of foundation stone, the helipad set up for the arrival of Prime Minister, rest room and all the places the Prime Minister is scheduled to visit near the venue.
The Prime Minister, who is arriving for the foundation stone laying ceremony for the new capital of Amaravati at Uddandarayunipalem on October 22, will spend only one hour and fifteen minutes at the venue. According to the schedule released by the officials , the PM will go round the Amaravati Pavilion, set up to showcase the evolution of Amaravati through the ages till now, from 12.30 pm to 12.35 pm. Later, he will participate in the foundation ceremony rituals which include Purnahuti, Ratnanyasam (putting Navaratnas into a box), Silanyas (putting stone in a box), Vedasirvadam (taking blessings from priests). Between 12.35 pm and 12.43 pm the plaque will be unveiled. Then the MP will proceed to the dais at 12.45 pm and will address the public for about half-an-hour from 1.11 pm to 1.43 pm. As per the program, the list of speakers at the public meeting at Uddandarayunipalem is restricted to only five. After recitation of Maa Telugu Talli song, first Japan minister Yosuke Takegi will address the meeting followed by Singapore minister Ishwaran, Union Urban Development Minister M Venkaiah Naidu, Chief Minister N Chandrababu Naidu finally the PM. After the public meeting, He will depart from the venue at around 13.45 p.m to Tirupati. He will arrive in the temple town at 3.30 pm. After inaugurating the Garuda Terminal of Tirupati airport, he will lay the foundation stone for the Tirupati Mobile Manufacturing Hub at around 4 pm; he will go to Tirumala by 5 pm and after having Darshan of Lord Venkateswara, he will leave Tirupati by 6.15 pm for the national capital.