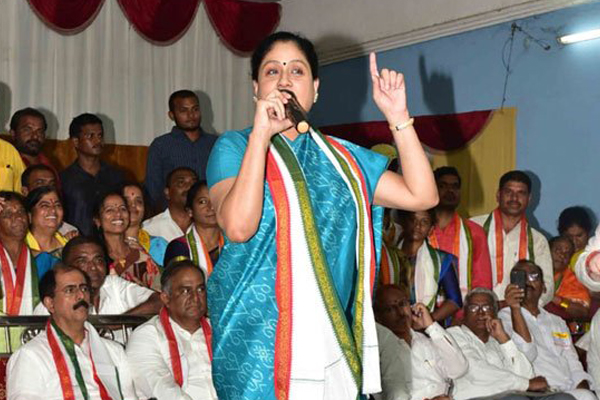 Congress party star campaigner Vijayashanti has addressed election meetings in Karimanagar for victory of party candidates. Speaking on the occasion, she criticised CM K. Chandrasekhara Rao for what she described as his unjust rule without coming to Secretariat, which is the seat of administration for any government.
Vijayawshanti accused KCR of having ruled the state by staying in his farm house rather than winning the trust of administration and officials to pass benefits of development to people. She appealed to the voters to reject KCR's rule in December early elections and elect Mahakutami candidates to bring in a responsible government.
Referring to women leaders in TRS, Vijayashanti said that KCR has not given ministry to a single woman in his Cabinet which showed his lack of respect to women leaders. She said that the Congress has given tickets to nearly 10 women candidates to contest in the present elections.
Meanwhile, senior leader Marri Shashidhar Reddy blamed Congress Telangana President Uthamkumar Reddy for the party not giving Sanathnagar ticket to him. Shashidhar has worked hard to grab attention a months ago when he filed cases against early elections on behalf of the Congress party. He has expressed strong discontent against party leadership and decided to plan for his future course of action after holding discussions with his followers.