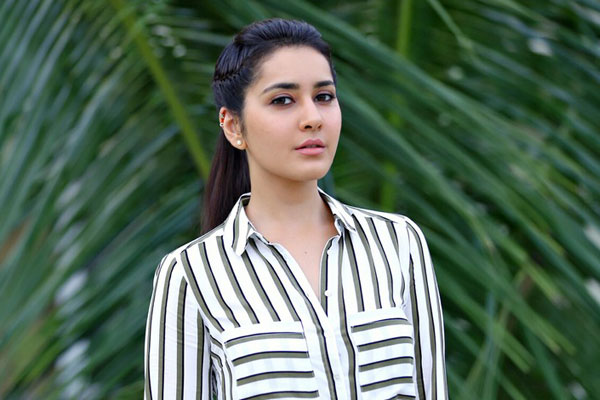 Raashi khanna Interview,Raashi Khanna Interview for hyper promtion
Raashi Khanna is in a wonderful phase of her career. While her film Hyper releases this week, she's got a slew of projects in the pipeline and she shares that she's quite kicked about the variety of roles being offered to her. Excerpts from a brief interview:
What has Hyper been like?
Well, it has been a difficult film for sure. I have never played a character like Bhanumathi before. It was quite a challenge to portray two different shades in one role. You see me transition from a simple and conservative girl into this modern girl who becomes very outgoing. My long cherished dream of playing a double role seems nearly fulfilled now! I am quite confident about my role in the film and feel people will like what I have portrayed. I am very lucky to be getting to play such varied roles so early in my career.
Did you connect to the character?
No. Not completely. While the first shade reminded me of the days in school where I braided my hair and wore these long dresses, it was the second shade which was difficult to connect with. I don't think I can be as open as her. And today, I am in the middle ground and neither of the characters are me at all.
You've teamed up with Ram for the second time. How different has this experience been when compared to your first film Shivam?
The best thing was that we didn't have to work towards become familiar now. Since we already know each other, it was easy to talk to each other. And I should say after this film, we've become friends. We knew each other before as well but on the sets of this film, we bonded well.
Hyper was completed in a very short time of three months. Was it difficult to keep up?
I just can't believe that we could finish the film in three months! It felt like it all just started and then we finished the film also. For me, a film isn't about the result at all. It's more about the experiences that I carry with me. No wonder then that the end of every film makes me sad that I am leaving behind a family. I used to be very affected by it initially. But with time, I've learnt I accept it. What was the learning experience from the film? I think I have opened up as an actor. Playing the shade of the outspoken girl was new for me and it did help me overcome my inhibitions as an artiste.
Okay, moving away from the film, you seem to have lost weight and there's a new charm on your face, almost child-like.
(Laughs) It's good na? I haven't consciously worked towards that. I have always been working out but I think results are showing now. But you know what, I don't aim to be thin, I just want to be healthy.
You are making your Tamil debut finally…
Yes! And I am quite excited. I have been approached for films earlier as well. But with this one, things fell in place. I have already shot for five days and the experience has been fun. Since I am new to Tamil, it did prove difficult but I am confident I will learn the language with time. And Siddharth is proving to be such a great help. It's such an honour to be working with such an experienced actor.