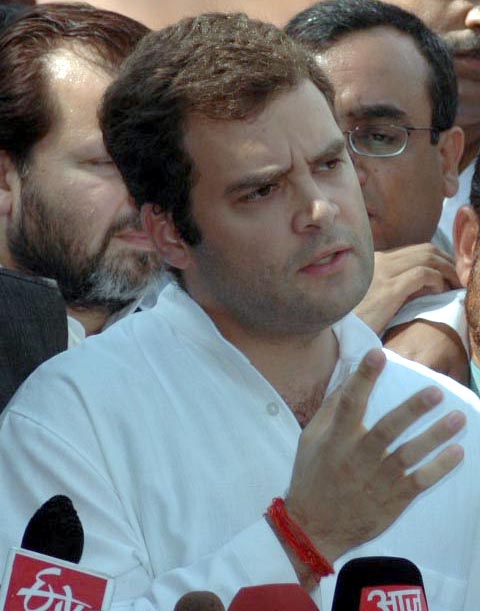 AICC vice president Rahul Gandhi will kickstart the party's campaign for Warangal Lok Sabha constituency byelection. Having seen the success of Rahul's Andhra Pradesh visit, Telangana Congress has succeeded in persuading him to visit the T-state and launch the first byelection for a parliamentary seat. Election Commission is expected to hold the byelection to Warangal seat vacated by Kadayam Srihari, in the next couple of months.
Congress, which is sure of a win in Warangal, given the growing "anti-incumbency factor" in Telangana state, wants Rahul to explain the Congress and UPA's objective in according statehood to the region in 2014 and how the dreams of ordinary people are now getting belied by TRS regime.
Rahul will visit the state on August 21 and 22. During his visit the AICC president will interact with Singareni workes in Bhupalpalli . He is expected address a meeting in Warangal as well from where he would launch the election campaign.
According to TPCC president Uttam Kumar Reddy, Rahul will interact with students in Osmania university, Hyderabad. Osmania students were the real force behind the Telangana movement. Students allege that after formation of TRS government, OU students have been jettisoned by the party, none of their demands have been fulfilled. So, Congress wants Rahul to interact with them and assure them that the party would stand by them in their fight for justice.
Rahul will also, participate in the 125 th birth anniversary celebrations of Dr Amdedkar. Congress is celebrating Dr Ambedkar's Jayanti with year-long programs.
As a prelude to Rahul's visit the party is planning state-wide agitations against non-implementation of Indiramma Houses for poor, and two-bedroom houses for homeless.
On August 4, the Telangana Congress is organizing dharnas state-wide in all mandal headquarters against non payment of Indiramma housing bills.