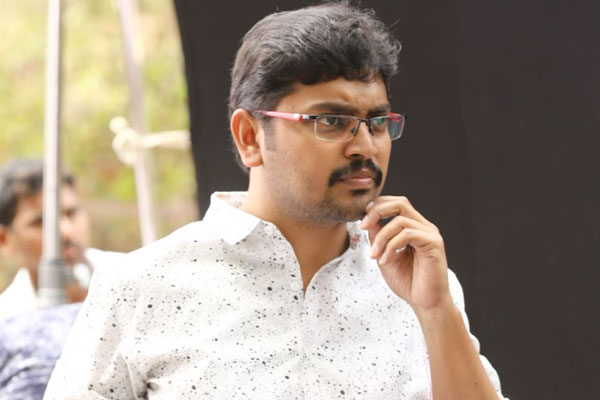 Impressed with Rakesh Sashi's maiden film 'Jatha Kalise', which he released later, producer Sai Korrapati asked the director to make his second film for Vaarahi Chalana Chitram. Although the project took time, Rakesh was determined to make it count this time around. "People who watched my first film said it's a decent effort but I wanted my next to reach out to a large section of audience. ' 'Vijetha' is an emotional drama unlike 'Jatha Kalise', which was a thin line, and it required certain maturity from my end. I felt I had it and I'm confident that I've done justice to the script," he begins in a conversation with Telugu360.com.
The film marks the acting debut of Kalyaan Dhev who is married to megastar Chiranjeevi's younger daughter Sreeja. Rakesh insists that the actor was never in the picture when he was done with the script. "As I began to search for my male lead, I got in touch with Satyanand garu who spoke about Kalyaan. He was just through with an acting course at Satyanand's Institute in Vizag by then. I've approached him telling him that I was doing Vaarahi's next film. He liked the line but said that he'd get back to me after speaking to his family once," Rakesh flashbacks, adding that till then he kept Sai in the dark. "As I was waiting to hear back from Kalyaan, I told Sai garu about my rendezvous with Kalyaan. Three- four days later I got a call from Kalyaan asking that Chiranjeevi garu wants to hear the story."
He admits that he was a tad nervous to narrate the script to Chiru to begin with as he has grown up watching the megastar's movies but regained his composure quickly. "I gave him a narration of more than one-and-a-half hours. He liked the content and the way I narrated. He gave his assessment of the script for 30 minutes, while noting, 'I've heard of a lot of scripts of late but nothing caught my fancy like this.' His appreciation was like a pat on the back. He even told Kalyaan, 'You should consider yourselves lucky to be introduced with such a subject'."
Didn't Chiru suggest any changes? He replies, "He offered his expertise on how careful should I be about certain emotional sequences and how I should go about them. That's it! He didn't propose even a single change. He particularly liked the screenplay."
As Kalyaan signed on the dotted line, Sai's initial plans for the film changed significantly. "He wasn't expecting Kalyaan to do the film at first," he smiles, "But as soon as Chiranjeevi garu gave us the required consent, Sai garu had to alter his plans both budget-wise and technicians-wise. KK Senthil Kumar was not the cinematographer till then. Sai garu spoke to him and asked him to listen to the story. Senthil garu, being extremely busy, chose to do the film after endorsing the story. Likewise, 'Rangasthalam' production designer Ramakrishna too joined the film. He too wasn't a part of the film in the initial scheme of things."
Borrowed slightly from his personal life and from what he has seen around, 'Vijetha', which is a week away from a wrap-up, is the story of a middle-class youth (played by Kalyaan) who has just completed his engineering. "That's all I can reveal as of now," he laughs wide, pointing out that they haven't released the teaser yet.
While he isn't keen to get into the subject of nepotism bearing in mind Kalyaan's background, he informs that newbie was tailor-made for the part. "In fact, as I began to interact with him for the project, he said that he dreamt of being an artiste, and so enrolled himself at Satyanand Institute." But isn't the film's title clearly a publicity ploy to attract mega fans? Rakesh reasons that everybody knows how Sai Korrapati promotes films and that 'Vijetha' wasn't the initial title that he had in mind. "They were other titles that I considered but the team felt 'Vijetha' was more appropriate. Also, it has nothing to do with Chiranjeevi garu's old film. In fact, we asked him if he'd be okay with the title and he had no issues as such," Rakesh ends.
Nagaraj Goud