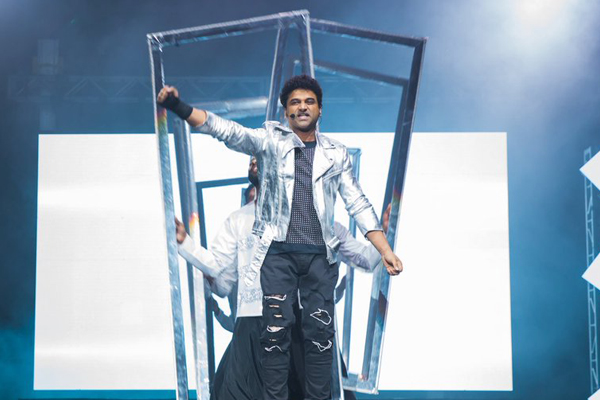 DSP Chicago show gets mixed response in terms of entertainment
Attendance wise it's a disaster with a low 1,700 people
Takeaway for next shows: Rework on pricing and marketing
Ace Telugu tamil music director, energetic star Devi Sri Prasad's 2018 USA tour kicked off last week with a show in Seattle. Second concert of this tour was held in Chicago on Aug 18th Saturday. Chicago show evoked mixed response in terms of entertainment, attendance wise turned colossal disaster.
The music:
It was a 3-hour (8-11PM) singing and dance show which showcased some of the best DSP's works. DSP had appeared on the stage with 'Bharat ane nenu' title song amidst huge cheers from his fan boys. He next performed a cool dance number 'na manasu neelo '(Nannaku Premato). In the first half of the show, DSP 's own performance on stage is limited to three songs in the 8 to 9:30PM window. Remaining time was consumed by his team's performances or other customary introductions. 'Pilla Nuvvu leni jeevitam' (Gabbarsingh) evoked good response, which was matched by next song 'Rakhee Rakhee'. Megastar's mega hits 'Rathalu Rathalu 'followed by 'Ammadu Let's do kummudu 'he performed at the final stages, got thumping response from the audience.
Overall, with his energy DSP entertained the audience but choice of songs could have been better. Mainly, his melodious side is missing in exchange of peppy numbers.
Heroine Shraddha das added glamour to the show, had been the second-best attraction of the night. She got rousing response from youth audience, sung 'Aww Tuzo Mogh Kortha (1 Nenokkadine), danced to 'Rakhee Rakhee 'songs. Singers Renina Reddy, Sagar, Shravana Bhargavi, and HemaChandra covered few hits of Devi Sri Prasad. Actress Madhu Salini anchored the event.
The stage show:
For few songs like "I Wanna follow follow you "Devi Sri danced with a group of dancers and professionally choreographed steps. He hired a local american dance group, some production cost can be seen for costumes and props that's have been used. LED backwalls are of standard setup, more immersive visuals design could have been done by the graphics team to go in sync with the context. Acoustics are good for floor level seating rows, but few from the back and galleries complained the audio would have been better.
Entertainment 2014 Vs 2018:
2014 chicago show was much better paisa vasool, electrifying because of better attendance (more than double compared to 2018) and other factors we're about to discuss. Audience were more interactive back in 2014 show – obviously because of more crowd. Nora Germain's violin play stood out as one of the 2014's highlights but matching attraction missed in 2018. Anchor Anasuya (2014) was replaced by Madhu Salini (2018). Pyrotechnics were used in 2014 show, gone missing now – no big deal though. Viva girl Neha Bhasin, 'Aa ante Amalapuram 'fame singer Malathy were another attraction in 2014 DSP show, now replaced by Shravana Bhargavi – Hemachandra ( more family audience oriented singers ).
Attendance:
Devi Sri Prasad's concert 2018 at Chicago had disastrous attendance of mere 1,600 to 1,700 people which is dismal, low compared to even local telugu organizations' annual cultural programs. The same DSP show back in 2014, which was held at Sears Arena, was patronized by aproximately 4,000 music lovers. While 2014 show in Chicago had incurred thin losses despite with good attendance, 2018 had turned to be heavy loss to the national organizer as well as their local partners. Reportedly more than 60% of the investment is at loss from Chicago show.
Ticket Pricing:
The venue of the concert UIC Pavilion has mammoth 9,500 capacity to seat, organizers could have put lesser price range affordable to students, average telugu families. Level 2 galleries at $20, Level 1 galleries at $40 – $50, Floor levels at $75, $100, $150 would have been optimal and win-win for all.
If the auditorium capacity is medium to small then higher pricing is inevitable to recover the costs, but in such huge venue, current high pricing of $299 -$159 for floor level seating resulted a disastrous attendance despite selling at 30% discount. Especially in troubled immigration times, families seem spending more cautiously. Added to the pricing factor, new event management company struggled in networking and marketing which had resulted in only 1/6th of the auditorium is occupied. Since 2014 show was attended by 4,000 people, this time organizers might had overestimated to similar response.
Return on Investment:
Devi sri prasad had been charging $80,000 per show, travel & lodging cost for the team for seven days cost $40,000, Venue fee $40,000, Sound $40,000 and including other expenses $200K is the estimated investment for this single Chicago show. More than 55% of the investment had been lost in Chicago 2018 show according to our estimates.
Final word:
Devi sri prasad is very energetic, talented, crowd pleasing entertainer, his shows have been raising the bar for Telugu concerts in USA. Logistically his shows design deserves more pricing than ordinary singing shows. But, Telugu concerts' market is at evolving stage, and is not even 1/4th of its Hindi counterpart in USA. Only Ilaiyaraaja, S. P. Balasubrahmanyam like celebrities were able to manage the shows to breakeven (for organizers) only because of Telugu, Tamil combined patronage. DSP doesn't have enough patronage from tamil market yet.
In terms of all round entertainment, "DSP show "deserves more ticket pricing than any other south indian performer, but the biggest obstacle for his model is his "Telugu only" market. Keeping these factors in mind, rather than going big bollywood scale, it would be economically feasible to pick moderate 4,000 capacity auditoriums, hire sound technicians with expertise in concert hall acoustics rather than the ones who have a bunch of loud speakers to install around. Cutting the other costs, bringing down the ticket costs would help success of the show.
All in all, DSP show is a satisfactory one if you could afford. Nothing much to miss even if you skip!