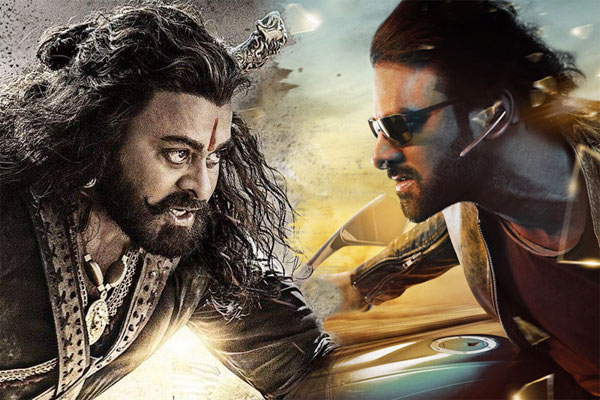 The market for Telugu films in North India has dramatically changed after Baahubali success. Buyers are shelling out huge amounts to take away the rights of our movies which are being made on a larger-than-life scale and has universal appeal in stories.
Prabhas' soon-to-be released big budget entertainer Saaho is the next film after Baahubali that has triggered a massive buzz in Bollywood circles. The film has attained unprecedented hype all over North India. As Baahubali toppled all existing records in all North territories, it is of no surprise that Saaho will draw the attention of audience and trade circles there. Anticipating the wide market for Prabhas films after Baahubali, the makers of Saaho went all out to spend a whopping budget on it. As expected, the film has been doing phenomenal business all over North. The action saga is all set open big on August 15th.
After Saaho, another Telugu magnum opus which is aiming to generate buzz in North is Megastar Chiranjeevi's patriotic drama Syeraa Narasimha Reddy which is set in the backdrop of Independence day struggle. SyeRaa, which has Ram Charan as producer, is also made on a staggering budget. The film needs to do strong pre release biz in order to recoup the investment. While the business in Telugu states is quite solid, the hype in other territories including North is little bit underwhelming.
So, the makers of SyeRaa are planning to promote the film bigtime all over North to garner strong buzz before it's release. They are hoping that if Saaho succeeds at Bollywood box office and consolidates the position of Telugu cinema further, it would definitely help SyeRaa in getting more hype all over North. The result of Saaho is surely going to impact the prospects of SyeRaa in North circuit.
SyeRaa is slated for release in the first week of October. It features an ensemble cast from Bollywood and South India. It chronicles the life history of unsung freedom fighter Uyyalawada Narasimha Reddy.