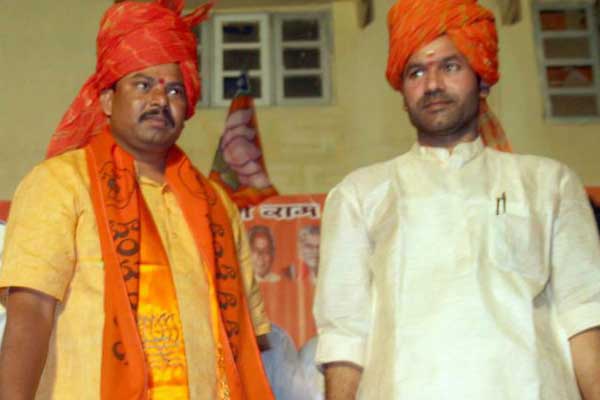 Goshamahal BJP MLA Raja Singh, who hogged the limelight by demanding ban on OU beef festival, demanded the removal of state BJP president Kishan Reddy from the post. Addressing media, Raja Singh said the party could not expand under Kishan Reddy's leadership.
"Kishan Reddy failed to get the benefits of the Prime Minister Narendra Modi's schemes to the people of Telangana state. He is unfit to lead party and is not supposed to continue in the post. Kishan Reddy should be sacked from the post of party president immediately.", he said.
The Tussle between Raja Singh and Kishan Reddy erupted from the day when Madhu Goud, brother of Congress leader Mukhesh Goud joined BJP five months back. Raja Singh's contention is that they had waged a bitter fight against Madhu Goud in the constituency and Kishan helped Madhu Goud join the party. Similarly, Kishan Reddy is said to be encouraging a builder, who is an RSS man, to operate in Goshamahal Constituency much to the chagrin of Raja Singh. Finally today he demanded the removal of Kishan from the post of president of Telangana BJP unit as Kishan was working at cross purposes with the party.He alleged that Reddy was not extending any cooperation to party leaders such as Chintala Ramachandra Reddy, Dr K Laxman, Dr Nagam Janardhan Reddy, NVVS Prabhakar etc.
Raja Singh said a person who was not able to take the party leaders along was unfit to lead the party. " A leader means he should be able take everybody with him. Kishan Reddy failed in it," he said.
The MLA said he had even written to Prime Minister Modi, party's national president Amith Shah, and Home Minister Rajanath Singh about his views on Kishan Reddy. " I have requested them to remove Kishan Reddy as Telangana party president to strengthen the party. Otherwise the party will perish," he said.