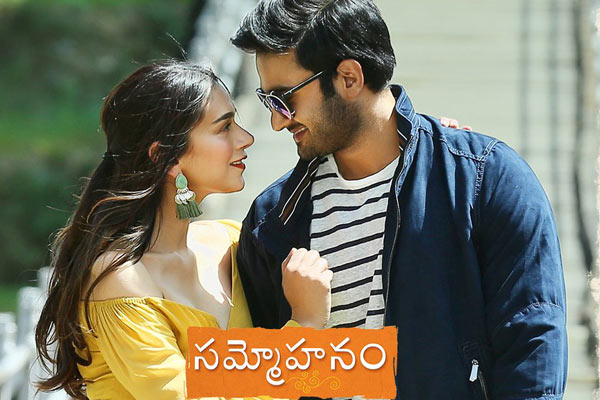 Sammohanam Review Rating
Telugu360 Rating 3/5
Critically acclaimed director Mohan Krishna Indraganti is back with the love story between a commoner and a showbiz starlet.
The film has garnered good attention from movie buffs after the refreshing trailers and breezy audio
Let's find out if the film lives up to the mark or not :
Story :
R. Vijay Kumar ( Subeer Babu ) lives with his happy family – Dad , Mom and sister. His dad ( Naresh ) is a movie buff whose life ambition is to act in films. Making his wish come true , A film unit seeks their home for 20 days shoot. The most happening heroine Sameera Rathod ( Played by Aditi Rao ) is the heroine of the film under shoot. Ajay gets an opportunity to train her in Telugu and love blossoms between them.
When Vijay
proposes , Sameera neither rejects nor accept but is indifferent which is later revealed in the flashback.
Rest of the story unveils the reasoning behind her acts and see what happens between the lead pair
Performances :
Sudheerbabu is at ease as a cool attitude urbane upper middle class guy. Aditi Rao as a north indian heroine who shots into fame in telugu industry is another good fit. Her grace and personality is a T fit for Sameera role. The lead pair's chemistry is appealing in first half
Senior actor Naresh excelled as ' cinema pichi ' daddy and show stealer of Sammohanam. Pavitra lokesh 's characterization as modern mother is unique. The girl who played Ajay's sister is adequate. Rahul Ramakrishna as a gossip website owner , Tanikella Bharani got small roles. Nandu as cinema hero Kishore Babu is decent. Hariteja plays Aditi Rao's personal manager
Analysis :
Mohankrishna Indraganti who is known for delivering class films narrated with leisure pace continues his signature with ' Sammohanam '. This time he picked life of a heroine who has been caught between the bad company in film industry and a good guy who is closer to her heart. The film deals with the pressures a modern day top actresses faces in her day to day life.
First half revolves around the 20 days cinema shoot that occurs in Ajay ( Sudheer Babu) 's home. Naresh's role generates humour as a movie lover who gives out his home for film shooting in a free exchange for a role on the film. Sameera who is a hindi native struggles to deliver telugu dialogues and hires Ajay to train her.
Here things turn bit cinematic – a celebrity heroine falling in attraction of a middle class guy after hearing few poetic definitions about love. The grand parents' love episode narrated by Ajay is typical Indraganti mark matured and class writing. Till interval there were couple of good lyrical value songs , visually poetic shots within. Thus first half is decent enough though slow paced
After some feel good moments , conflict part starts which is not convincing. Amit Malhotra's thread flashback is cliched. The conversations goes on and on and on , sometimes preachy sometimes boring. Thus second half lacks any good moments . Book launch ceremony in climax stretches beyond.
P G Vinda 's cinematography stands out. He and Ingradanti's eisthetics can be seen in Ajay's house balcony setup , The cool visuals in two songs and overall the film carries glossy look.
Vivek Sagar delivered cool music and background music.
Director Indraganti succeeded in portraying cinema industr's typical behavior, and in subtle dig at industry as well as a gossip website. In first half he was okay but second half is cliched and snail paced
Positives :
Subject is different than run-of-the-mill ones
Lead Pair
Couple of melodious songs
Naresh Comedy ( until gets repetitive)
Eisthetic Visuals
Negatives :
Snail paced 2nd half narration
Endless conversations
Conflict point barely exist/In-convincing
Verdict :
' Sammohanam ' is a slow paced class film from Director Indraganti. First half has some colorful moments with Aditi Rao , Sudheer pair's cool chemistry. As it advances ' sammohanam ' turns too conversational and preachy. Conflict point barely exist and its resolution is artificial.
Overall, this film may appeal to audience in overseas and Urban centres. It earns ' good attempt ' tag but excruciatingly slow !
Telugu360 Rating 3/5
Release Date : 15th June, 2018
Director : Mohan Krishna Indraganti
Music Director : Vivek Sagar
Choreography : P. G. Vinda
Producer : Sivalenka Krishna Prasad
Starring : Sudheer Babu, Aditi Rao Hydari