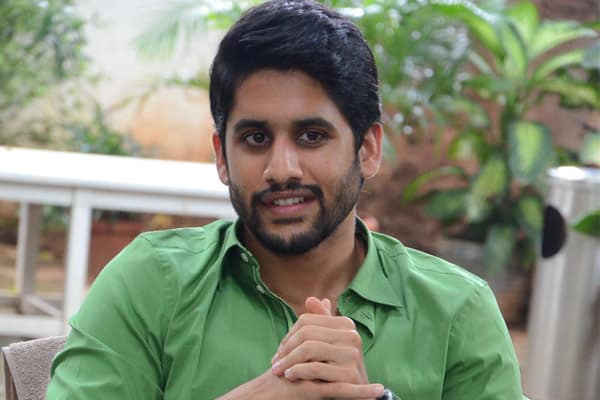 After tasting a decent success with Ra Randoi Veduka Chooddam, Naga Chaitanya Akkineni is gearing up to engage and entertain audience with his next outing 'Yuddham Sharanam', which is slated to hit screens on Sep 8.
Ahead of the film's release, here is our exclusive interview with Chaitu.
* Whom are you doing this Yuddham (War) for?
– For family. We have already showcased it in the trailer. A happy go lucky youth entangles in an unexpected issue. What he does for his family to keep them safe is the story. The line may look simple but the screenplay is quite novel. Telugu audiences have never seen this kind of screenplay. They will go out of theatres satisfied after watching the film.
* This film's director is your friend. Have you done this film for his sake?
– Yes, director Krishna is my childhood friend. He is very passionate about films. Krishna has been struggling for past four years but his debut film has finally materialized with me. I accepted the film as I had fallen in love with the script. We together convinced producer Sai Korrapati, who has emerged as the c/o address for good and novel cinema. Krishna and I wanted to make it as a small film but Korrapati's uncompromising nature made it a big film.
* How important is this film for your career?
– Very important. RRVC took me closer to family audiences and I hope Yuddham Sharanam will help me connect to youth and mass audiences. This is very crucial film for me.
* Is this an action drama?
– There will be action but it will be fresh. Drone camera has been used as a plot element in the film. Screenplay will surprise everyone.
* How could the team convince Srikanth to essay Negative role?
– Villain has an exceptional role in the film. We needed a talent powerhouse. Both Krishna and Sai Korrapati came up with the idea of casting Srikanth and he agreed when approached. His acting is a major asset to the film.
* Lavanya Tripathi has earlier acted with your father. How it felt to act with her?
– Yes, it happens very rarely. She is a sincere artiste. She has a meaty role in the film and she gave her best.
* Tell us something about Savyasachi?
– It is a film based on a different concept yet it is a complete commercial film. Savyasachi means ambidextrous, someone who can fight with equal power with both hands. My left hand doesn't listen to me in this film. The action sequences will be first of its kind.
* About film with Maruthi?
– We haven't yet finalized the story yet.
* About marriage?
-It will happen on October 6 in Goa. A Hindu style wedding ceremony will be followed by a Christian style. Marriage ceremony will be a simple one but the reception will be held in a grand manner.