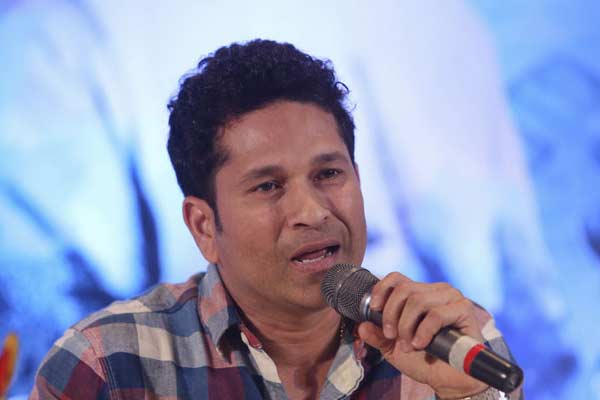 It has been four years since Sachin Tendulkar retired from competitive cricket, but the game is so ingrained in his head that he only talks of his life and work in terms of innings. In his "second innings", the master blaster says, he is focussed on doing whatever gives him satisfaction.
Whether it is about associating himself with events and activities involved in charities or supporting causes close to his heart — Sachin is looking to "give back".
"The first innings of my life was in the middle of the field, constantly chasing targets set by the opposition. But my second innings is about satisfaction," Sachin told IANS here as he opened up his emotional side.
"As long as there is a purpose behind doing something in life, that gives you satisfaction. And that you only get when the heart tells you that, 'Okay, you've done something well,'" he said.
"That is another journey, another chapter that has started in my life. We all try our level best to do various things (for others) and these are things that give me satisfaction. And I'll continue to do them because this is a longer journey," added the 44-year-old as he delved into post-retirement life.
He feels he's in a good space now. Sitting back and reflecting upon how life has played out for him, and how he has played it his way. Now he is going to share the journey with his fans worldwide with "Sachin: A Billion Dreams" — a documentary drama with real-time footage from his personal and professional highs and lows.
A billion hopes, perhaps, will be pinned on him — once again — when the movie releases on May 26. Sachin says he can feel the same edge-of-the-seat thrill and anticipation as he felt before he walked into a stadium full of people rooting "Sachin, Sachin" in unison.
"It's good for people to have expectations… I felt that way even on the field. Can you imagine I am walking into the stadium and nobody from the stands is expecting anything from me? That would be a wrong place to walk out (from)," he said.
"Pre-match, I would tick all the boxes, and if I had done all those things, I could stand in front of the mirror and say, 'Yes, I have prepared myself well.' As for preparation for the film, you can say I've given 100 per cent. In cricketing terms, we have played the first innings and now you guys need to play it by watching it," he said with a reassuring smile.
Emotions play a huge part in his life — evident when the star cricketer takes a long pause to reflect on the most emotional phases of his life.
"There were two moments, I would say. Since we're discussing highs and lows… The lowest was when I had lost my father. That was an irreparable loss, and I knew whatever happens in my life post 1999, he won't be there to share it. That was a huge loss," he said.
"The highest point has to be the 2011 World Cup which we won," said the young achiever, who has been feted with national honours like Bharat Ratna, Padma Shri, Padma Vibhushan, Arjuna Award and Rajiv Gandhi Khel Ratna.
As a child, he remembers being notorious, but recounted how his parents' patient way of dealing with him, has been responsible for strengthening his "foundation".
"They were very patient with my 'masti'. My father and mother would never get angry despite my mischief, and that doesn't mean they didn't tell me anything. They told me, but they had a nice way to convey anything and everything in life. And they continue to do so… My mother lives with me, Sachin said.
"I grew up watching my father and I was like a sponge absorbing information. He didn't always have to tell me everything. But I was watching him all the time as I wanted to become like him. And that continues…" he added.
Sachin says it is such pre-cricket and post-cricket facets of his life that he felt should be shared with his fans. In that sense, he hopes the audience has something significant to take back after they watch the film.