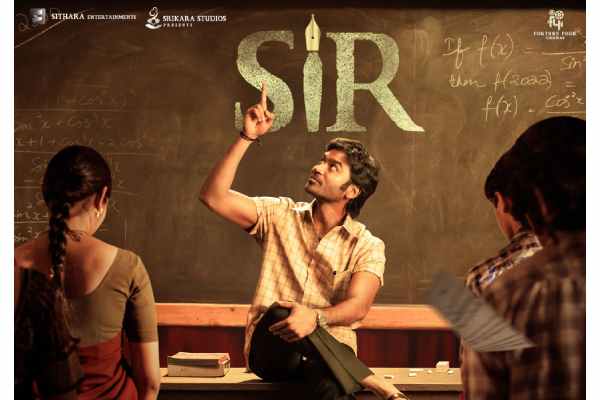 SIR Movie Review
Story :
Bala Gangadhara Tilak alias Balu ( Dhanush ) is a junior lecturer in a private college. He works for Tripathi educational institute, which adapts a few government colleges due to a government order. Balu is deployed to a rural government college in which students dropped out due to financial reasons and due to lack of awareness about good education. Balu's aim is to improve the student's attendance and achieve state ranks in EAMCET for his students.
Analysis :
The story premise sounds familiar as Hrithik's 'Super 30' film but the comparison ends there. SIR movie deals with the Intermediate college system's failure. Commercial educational institutes in the 1990s successfully brainwashed parents that quality education comes only with higher fees. This film narrates how private institutions had systematically collapsed the Government ones. The film also touches caste system in rural areas.
Director Venky Atluri quite often plays it to the galleries. Though the scenes are predictable, they are effective in generating emotion. APJ Abdul Kalam Sir Scene, Sai Kumar, and Police Inspector realization scenes are good. They are very forced emotional scenes like the one in which students seek bullock carts ride to go for the EAMCET exam etc. However, the core subject covers up the flaws. If the dramatization is replaced with a few creative or fresh scenes this film would have been standing out.
Production values by Sithara entertainments are good, they have promoted this film aggressively. G V Prakash background score fits into the theme.
Dhanush excelled in the lecturer Balu role. His innocent face gels perfectly with the Balu characterization. Samyuktha Menon as a biology lecturer is fine. Saikumar as siripuram village president appeared on screen after a gap, he is good. Sumanth who played A.S.Murthy character narrates the entire story from his point of view. Hyper Aadi plays a co-lecturer role and has few jokes in his work. Samudrakhani as the owner of educational institutions is good casting.
Positives:
– Dhanush performance
– Very Good subject
– Heart touching Emotions
Negatives:
-Predictable scenes
– Forced Dramatization at times
Verdict:
SIR is a melodramatic film with a good subject. You will root for the subject, for the underdog hero, and for students. The predictable scenes and the over-dramatization negate the good subject to an extent. Overall, a decent watch.
Telugu360 Rating: 2.75/5
Summary
Reviewer
Review Date
Reviewed Item
Author Rating