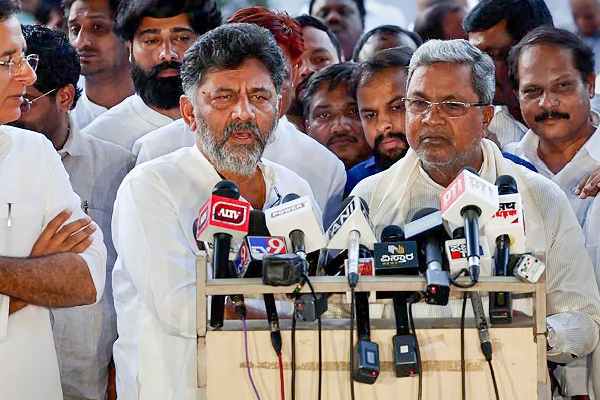 Karnataka results that are coming out are almost in Sync with the opinion polls and expert predictions. Congress is leading in more than 120 seats while 113 is the magic figure in Karnataka.Debate is going on about what are the reasons for such a positive wave for Congress in this elections. Details as follows.
It seems social engineering is the main reason for Congress's victory in Karnataka. Especially Congress's social engineering with Lingayat and Vokkaligas seems to have been the major factor in Congress's lead in Karnataka elections this this time. Lingayats have around 17% votes in Karnataka. In the past BJP rose to power in this state with the support of Lingayats. BJP could win their trust by putting Yediyurappa as front face for their party. But now Lingayats feel betrayed by BJP as BJP sidelined former Chief Minister BS Yediyurappa. Not only that, but BJP also denied tickets for some prominent Lingayat leaders like Jagadish Shettar and all this made Lingayats felt betrayed by BJP. Cong leaders like Siddaramaiah reiterated this in several meetings and also said that Lingayats are going to vote for Congress this time.
Another community that turned wave for Congress is Vokkaligas. They have 11% vote bank in Karnataka. DK Shivakumar, who hails from this community is PCC chief for this state. Moreover, ED filing cases against him and central government agencies harassing him made Vokkaligas distance from BJP. In addition, as DK is also CM candidate, this community seems to have supported Congress big time in this elections. DK Shiva Kumar also has been openly saying that after SM Krishna, no leader from Vokkaligas has become CM of Karnataka.
In fact BJP sensed anti-wave on BJP from these communities before elections. In order to mitigate this risk, BJP government in Karnataka has increased the reservation given to the Lingayat and Vokkaliga communities by removing separate quota for Muslims. Muslims used to have 4% reservations under OBC category but BJP scrapped it and provided it to Lingayats and Vokkaligas 2% each. However, this last minute measure seen as political stunt of BJP for some votes by these 2 communities. Also, this decision further irked the minorities who are usually with Congress.
It seems minorties who have approximately 20% votebank, Lingayats who have 17% votebank and Vokkaligas who have 11% votebank have voted for Congress this
time. This social engineering of Congress along with the huge anti incumbency on BJP led to the Congress win in Karnataka.